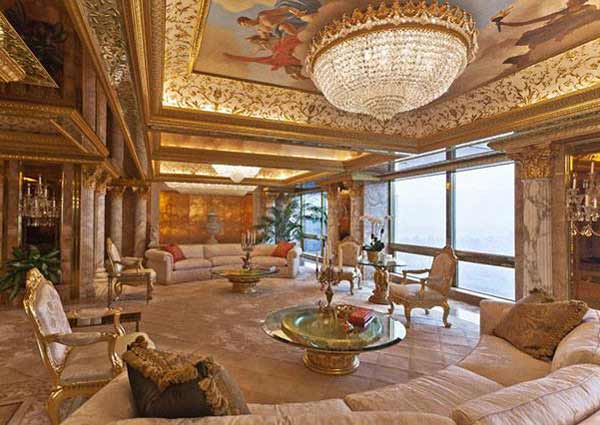 He may be moving to the White House soon, but it may be understandable if United States President-elect Donald Trump starts pining for his New York home.
Mr Trump currently lives with wife Melania and their 10-year-old son Barron in a grand three-storey, 66th floor penthouse in Trump Tower.
The lavish apartment is located on Manhattan's Fifth Avenue, and boasts panoramic views of the surrounding New York skyline and Central Park.
But the interiors are arguably even more jaw-dropping. The penthouse appears to take inspiration from the opulence of the Palace of Versailles, with its ceiling-to-floor marble columns, chandeliers, statues, sculptures and art, the Daily Mail reported.
The doors, statues, furnishings, glasses, lamps and vases are all emblazoned with gold, while cushions and pillows bear Mr Trump's coat of arms.
There is even an indoor fountain in a sitting room, behind two semi-circled ivory sofas, reported News.com.au.
Photos of Mr Trump's family, including his other four children Tiffany, Eric, Donald Jr and Ivanka, sit on a marble-topped golden side-table, adding a personal touch.
According to The Sun, the luxurious residence would be expected to fetch around US$100 million (S$142.6 million) if it were ever put up for sale.
Mr Trump will begin his term as President of the US after his inauguration on January 20 next year.
However, the New York Times (NYT) reported that Mr Trump has held discussions with advisers over how many nights a week he would have to stay in the White House, suggesting that he would like to spend time in New York when he can.
He reportedly has a deep affection for the penthouse, and often flew several hours late at night during his election campaign just so he could wake up in his own bed.
seanyap@sph.com.sg