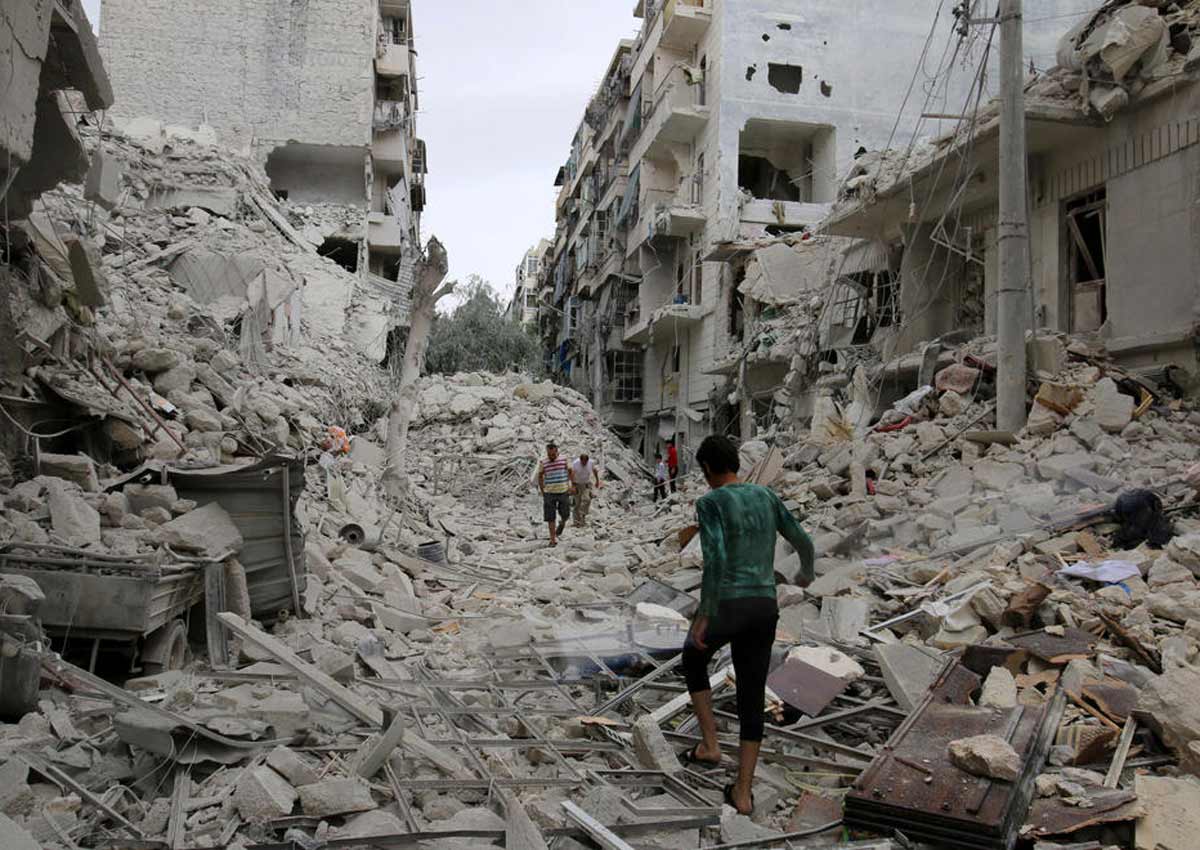 Aleppo, Syria - Heavy Syrian and Russian air strikes on rebel-held eastern areas of Aleppo city killed at least 25 civilians on Saturday, a monitor said, overwhelming doctors and rescue workers.
The toll was expected to rise because people remained trapped under rubble, according to the Britain-based Syrian Observatory for Human Rights.
The intense raids continued for a second night, after Damascus announced an operation late Thursday to recapture all of the city.
Seven people were killed in a strike on the Bustan al-Qasr neighbourhood as they queued to buy yoghurt at a market.
Bustan al-Qasr is along the frontline that divides the government-held west from the rebel-held east of the city.
The attack left a pool of blood and bodyparts strewn at the site, according to an AFP correspondent.
On Friday at least 47 people were killed in heavy bombing, among them seven children, according to the Observatory.
There was massive destruction in several neighbourhoods, including Al-Kalasseh and Bustan al-Qasr, where some streets were almost erased by the bombardment.
Unexploded rockets were still buried in the roads in some areas, and elsewhere enormous craters around five metres (16 feet) deep and wide had been left by the bombing.
Residents and activists described the use of a missile that produced earthquake-like tremors upon impact and razed buildings right down to the basement level where many residents desperately seek protection during bombing.
The civil defence organisation known as the White Helmets was left overwhelmed by the scale of the destruction, particularly after several of its bases were damaged in bombing on Friday.
The group says it has just two fire engines left for all of east Aleppo which, like its ambulances, are struggling to move around the city.
With no electricity or fuel for generators, the streets of Aleppo are pitch black and difficult to navigate at night, and the fuel shortage has also made it tough to fill up vehicles.
In many places, rubble strewn across streets has rendered them impassable and has effectively sealed off neighbourhoods to traffic.
On Saturday morning, the streets were nearly empty, with just a few residents out looking for bread.
The approximately 250,000 people in east Aleppo have been under near-continuous siege since government troops encircled the area in mid-July.
A truce deal negotiated between Moscow and Washington brought a few days of respite from the violence, though no humanitarian aid, earlier this month.
But the deal has fallen apart, and on Thursday the Syrian army announced an operation to retake all of Aleppo, urging civilians in the east to distance themselves from "terrorists" and promising them safe passage to government-controlled areas.