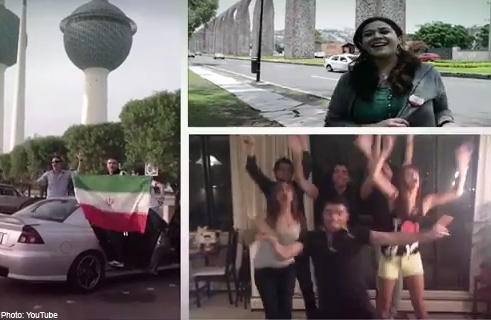 TEHRAN - Iran has arrested two actors who were part of a video clip filmed in support of the country's World Cup football team, the official IRNA news agency reported.
Produced by the London-based Ajam Band, the clip features contributions from Iranians in more than a dozen countries around the world, including the town of Shahroud, east of the Iranian capital Tehran.
It shows people singing and dancing in support of Team Melli, who are competing at the World Cup finals in Brazil.
Two 23-year-olds in the clip, identified only as S. M. and M. L., had been arrested following an investigation, IRNA said, citing Shahroud police commander Colonel Rahmatollah Taheri, who described the clip as "vulgar".
The film was reportedly aired on satellite television networks, access to which is only possible through dishes which are illegal but widespread in the Islamic republic.
No more details were provided.
Iran in May arrested six Iranian youths for dancing to US singer Pharrell Williams' hit "Happy" in a video that was posted online and went viral on social media.
The group was released on bail after a few days.