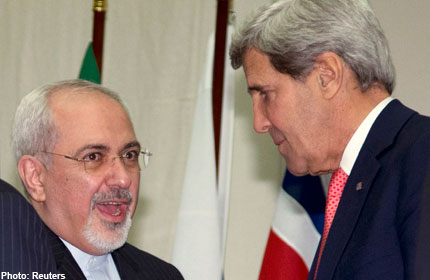 THE landmark nuclear accord between Iran and six global powers signed over the weekend is drawing fire from all sides in the US capital, with both Democratic and Republican lawmakers decrying the pact as a bad deal for the country.
On a day when President Barack Obama and Secretary of State John Kerry sought to shore up support for the deal at home and overseas, criticisms were lodged at a steady clip.
Some criticised the temporary deal for not going far enough to curb Iran's nuclear abilities while others said the agreement made the United States appear weak.
And there were those who went so far as to suggest the deal was a diversionary tactic by the administration to draw attention away from the botched roll-out of the new health-care legislation.
Tennessee Senator Bob Corker, the top Republican on the Senate Foreign Relations Committee, said the scenes of cheering in Iran were a clear sign that the Americans had been shortchanged.
"If you see the reaction in Iran right now, they're spiking the football in the end zone saying, 'Look, we've consolidated our gains. We've relieved sanctions. We're going to have the right to enrich (uranium)'," he told Fox News on Sunday.
Democrats were no less critical. New York Senator Charles Schumer, a Democrat with a large Jewish constituency, released a statement on Sunday saying the US$7 billion (S$8.7 billion) in sanctions relief for Iran was not in line with the concessions it made.
"A fairer agreement would have coupled a reduction in sanctions with a proportionate reduction in Iranian nuclear capability," he said.
Still, legislators seem prepared at least to give the deal a chance to work.

While saying that lawmakers would soon discuss a new round of sanctions, Democratic Senator Robert Menendez of New Jersey, the chair of the Senate Foreign Relations Committee, indicated that any new sanctions would include a six-month window before taking effect.
The brickbats were hurled at the nuclear agreement even as Mr Kerry took to the Sunday morning news show circuit to defend it. He emphasised that the provisions in the deal mean Iran cannot become like North Korea, which claimed it would curb its nuclear ambitions simply to have relief from sanctions.

"We have no illusions. You don't do this based on somebody's statements to you. You do it on the basis of actions that can be verified," he told CNN.
It remains unclear what impact, if any, the deal would have on Mr Obama's approval rating or his foreign affairs legacy.
An opinion poll prior to the news of the accord showed that a deal to lift sanctions on Iran in exchange for nuclear restrictions was supported by 64 per cent of Americans. But that same poll showed the President's approval rating had plunged to 42 per cent, down 13 points since May.
jeremyau@sph.com.sg

Get a copy of The Straits Times or go to straitstimes.com for more stories.