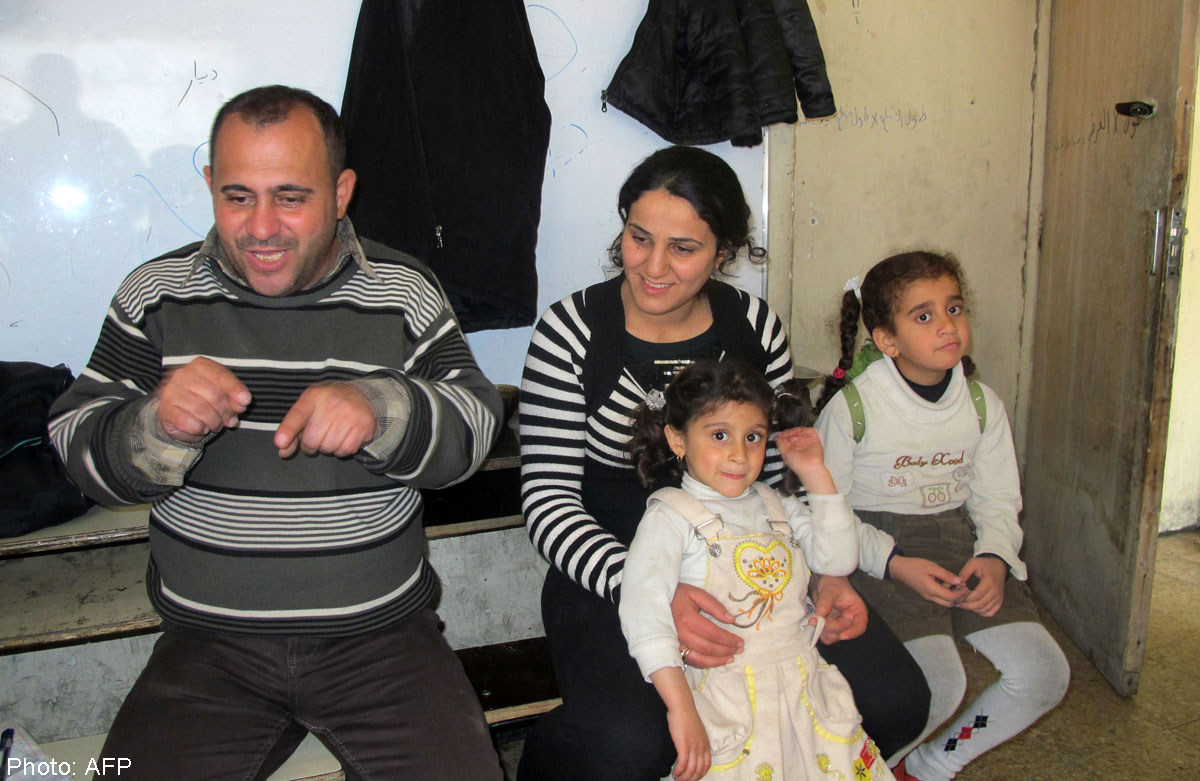 BAGHDAD - For 40-year-old Ghassan, who shares a small, damp Baghdad classroom with nine relatives, Christmas this year is offering little to celebrate.
"There is no Christmas here," he says, his eyes full of tears as he sits at a school desk, embracing his seven-year-old son.
Ghassan and his family are Chaldean Christians, but there are no signs of the holiday season in the grim room they share in a school next to Our Lady of Salvation church.
The windows are covered by old pieces of cloth, the walls grey, and foam mattresses and shoes are piled on the floor.
"There is no future for a better life," he says. "What is the future for my children? Is there something that guarantees their lives?"
Like thousands of other Iraqi Christians, Ghassan, his three brothers and their children have fled the brutal onslaught of the Islamic State (IS) jihadist group, which spearheaded a sweeping offensive that has overrun large chunks of the country since June.
IS has no compunction about killing both Sunni and Shiite Muslims, but it has specifically targeted members of minorities in areas it controls, in some cases giving Christians the choice of converting, paying a tax, fleeing or death.
Ghassan and his family left the town of Al-Qosh in Nineveh, the province where the IS offensive began, for Iraq's autonomous Kurdish region in August, then moved to Baghdad this month.
Now, he lives with his wife, their two children, his brother, sister-in-law and their four children in the same room, while two other brothers and their families live elsewhere in the school.
In past years the family would have spent this time of year "getting ready for the holiday and celebrating," says Basma, Ghassan's 27-year-old wife.
The family would decorate a Christmas tree at their home, have dinner with family on Christmas Eve, and then go to a midnight service, says Ghassan.
"The holiday was life... it had flavour and meaning," he says.
No celebration
But this year, "there will not be a celebration of the holiday - not for the adults and not for the children." There is a long history of trauma for Iraq's Christian community, which once numbered more than one million and is one of the oldest in the world.
The 2003 US-led invasion of Iraq ended Saddam Hussein's disastrous rule, but also turned the country into a battleground between insurgents and foreign troops, unleashing a wave of bombings and killings by militants in which Christians were not only caught in the crossfire, but repeatedly targeted themselves.
The bloodiest single attack on the community was on October 31, 2010, when militants killed 44 worshippers and two priests in the Our Lady of Salvation church.
While violence fell sharply in later years from the 2006-2007 peak of Iraq's sectarian war, it surged again from April 2013.
Then came the IS-led offensive, which Chaldean Patriarch Louis Sako says has displaced some 150,000 Christians.
Iraq's displaced Christians "live in a tragic situation and there are no quick solutions for them," Sako says.
"Especially this Christmas and New Year's, they need signs that assure them they are not left alone and not forgotten." They are "worried about their towns and their homes and their jobs and the future of their children." For Ghassan, the damage goes deeper.
"The people have no will to do anything anymore... all the people, not just us," he says.
"The heart is no longer joyful... the human (in us) is broken."