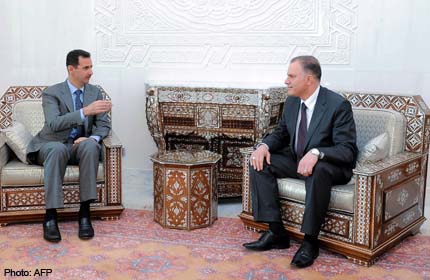 DUBAI - The Islamist militant group the Nusra Front has claimed responsibility for the assassination of the governor of Syria's Hama province last month, according to the US-based SITE intelligence monitoring group.
The Nusra Front, a Sunni Muslim group linked to al Qaeda, has emerged as one of the most effective organisations fighting to topple Syrian President Bashar al-Assad.
Syrian state television last month reported that"terrorists" had assassinated Dr. Anas Abdul Razak, the governor of Hama, with a car bomb.
No one immediately claimed responsibility for the attack, but the finger was pointed at Nusra which is active in the area.
The militant group, which in April pledged allegiance to al Qaeda leader Ayman al-Zawahri, said it monitored Abdul Razak's movements for a month before it struck, SITE reported.
The group - which is deemed a terrorist organisation by the United States - said it set a car bomb by the side of the road to detonate when Abdul Razak's convoy passed on Aug. 25, according to an English translation provided by SITE.
"After, one of the heads of the criminal regime, the governor Anas (Abdul Razak) Na'em, would fall along with several of his colleagues, and all praise and gratitude are due to Allah," it added.
It said Abdul Razak had participated in what it said was Assad's crimes against Sunni Muslims in Syria but gave no details.
Nusra leader Abu Mohammad al-Golani last month said it would target communities of Assad's Alawite minority with rockets in revenge for an alleged chemical attack near Damascus.
The United States is pushing for a mandate from Congress to launch military strikes against Assad's forces over the attack. Damascus had denied responsibility for the attack.
SITE also said in a separate email that more than eight anti-Assad militant groups, including the al-Ghoutah Martyrs Battalion, Mustafa Habib Brigades and 'Issa bin Maryam Battalion said they oppose Western military intervention in Syria calling such a move a "new aggression" against Muslims.