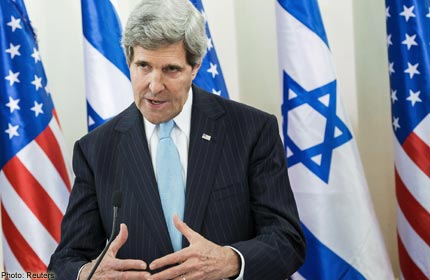 JERUSALEM - Israel successfully tested its upgraded Arrow ballistic missile interceptor for the second time on Friday, pushing forward work on a US-backed defence against threats seen from Iran, Syria and Lebanon's Hezbollah guerrillas.
One of several elements of Israel's still-developing defence against missile attacks, Arrow III is designed to deploy kamikaze satellites - known as "kill vehicles" - that track and slam into ballistic missiles above the earth's atmosphere, high enough to safely disintegrate any chemical, biological or nuclear warheads.
Iran and Syria have long had such missiles, and Israel believes some are also now held by their ally Hezbollah, another knock-on effect of Syria's civil war.
Friday's launch of an Arrow III interceptor missile over the Mediterranean sea was the second flight of the system, but did not involve the interception of any target, Israeli defence officials said. Israel deployed the previous version, Arrow II, more than a decade ago and says it has scored around a 90 per cent success rate in live trials.
"The Arrow III interceptor successfully launched and flew an exo-atmospheric trajectory through space," Israel's Defence Ministry said in a statement.
Yair Ramati, head of the ministry's Israel Missile Defence Organisation, told reporters that as part of the test, which was attended by US officials, the interceptor jettisoned its booster and "the kill vehicle continued to fly in space (and) conducted various maneuvers ... for a couple of minutes".
Israel predicts Arrow III could be deployed by next year. The Pentagon and US firm Boeing are partners in the project run by state-owned Israel Aerospace Industries (IAI).
Arrow is the long-range segment in Israel's three-tier missile shield. This also includes the successfully deployed "Iron Dome", which targets short-range rockets and mortar bombs favoured by Palestinian guerrillas in Gaza, and the mid-range "David's Sling", still under development. They can be deployed alongside US counterpart systems like the Aegis.
PROLIFERATING THREATS
The United States and Israel have been developing Arrow jointly since 1988. Washington says helping Israel develop the capability to shoot down missiles will help prevent escalatory wars - or preemptive Israeli strikes - in the Middle East.
Israel is assumed to have the region's sole atomic arsenal, as well as delivery systems including long-range missiles, and is bolstering defences as potential threats proliferate.
It worries about Iranian ballistic missiles, whose number it estimates at around 400, especially given the possibility Tehran could eventually produce nuclear warheads for them. Iran, which denies seeking the bomb, is in talks with world powers about curbing its disputed nuclear programme.
The civil war in Syria has raised questions about President Bashar al-Assad's control over his own ballistic Scud missiles. Israel says Damascus has used around half of these against Syrian rebels. Separately, Assad is decommissioning chemical weapons with which Syria's missiles might have been tipped.
Hezbollah guerrillas are helping Assad battle the insurgency and Israel believed they have obtained advanced Syrian weaponry including long-range missiles.
Briefing Reuters, a senior Israeli official estimated that Hezbollah now has between 60,000 and 70,000 rockets and missiles deployed throughout Lebanon, including a few dozen Syrian-supplied Scud Ds with ranges of 700 km (440 miles).
"It's the most significant threat facing Israel today," the official said of the Hezbollah missiles.
The Lebanese guerrillas fought Israeli forces to a standstill in a 2006 border war, firing some 4,000 rockets into the Jewish state.
The official, who declined to be identified by name given the sensitivity of the issue, was circumspect on how Israel's three-tier shield would function in a major missile exchange.
Single-interception trials had limited use for predicting Arrow's performance against potential missile salvoes.
"You need to pass this test - of a few dozen of them landing, in real time - to be able to speak about it with more certainty," the official said.