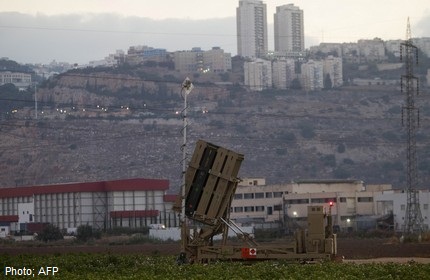 JERUSALEM - Israel's army said on Tuesday it was "not familiar" with any missiles being launched in the Mediterranean Sea, as reported by Russia's defence ministry.
The ministry, as cited by Russian news agencies, said its early warning system had detected the launch of two ballistic missiles from the central part of the Mediterranean fired towards the Sea's eastern coastline.
Questioned on the reports, an Israeli army spokeswoman told AFP: "We are not familiar with launches of missiles in the Mediterranean."
The Russian news agencies said Defence Minister Sergei Shoigu had already reported to President Vladimir Putin about the event, which comes amid growing expectations of Western military action in Syria.
"The launch was detected by the early warning radar in Armavir," the Interfax news agency quoted the defence ministry as saying.
"The trajectory of the targets in question was from the central part of the Mediterranean Sea towards the eastern part of the Mediterranean coastline," it added.
Putin, a vocal critic of the West's policies on Syria, has expressed strong doubt that Syrian President Bashar al-Assad was behind an alleged chemical attack on August 21 that has prompted calls for military action.
US President Barack Obama's decision on Saturday to ask Congress to authorise military action against Syria lifted the threat last week of immediate strikes on Assad's government.
Israeli Prime Minister Benjamin Netanyahu said Sunday that the Jewish state was prepared for "every possible scenario" in neighbouring Syria, but President Shimon Peres ruled out Israeli involvement in any intervention.
"It is not for Israel to decide on Syria, we are in a unique position, for varying reasons there is consensus against Israeli involvement. We did not create the Syrian situation," he said.