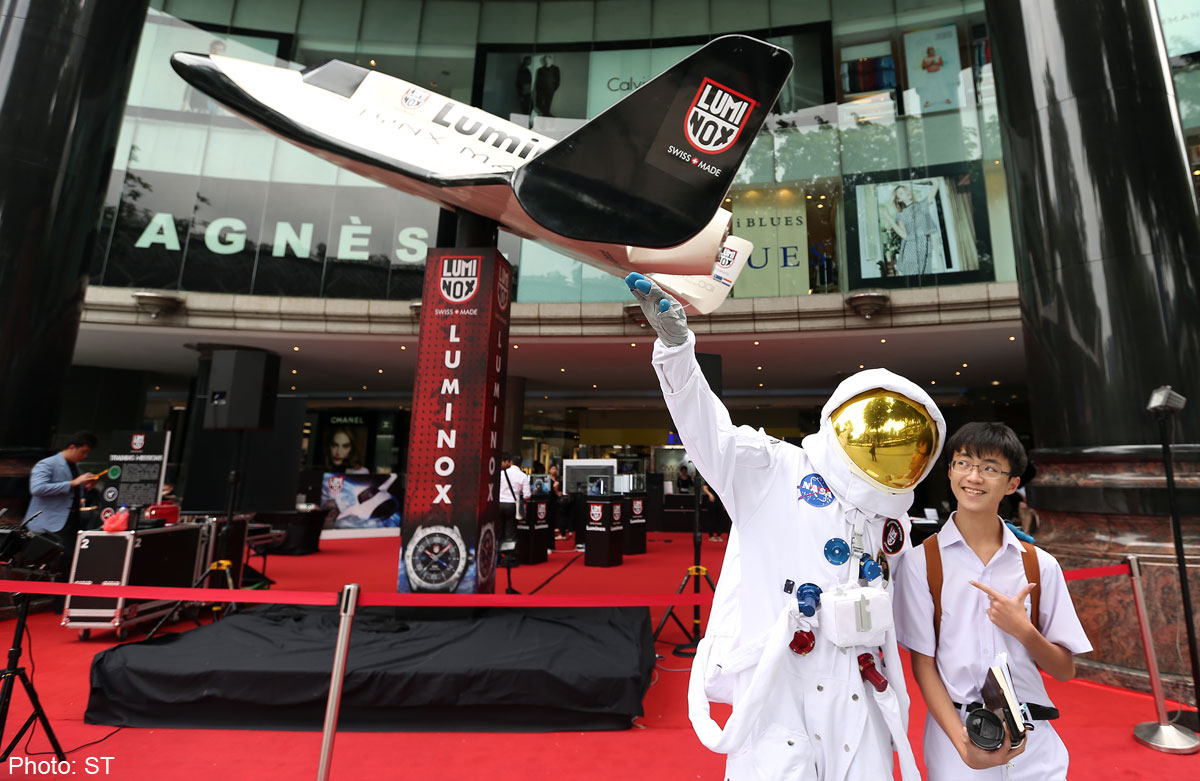 FOR US$100,000 (S$124,900), an American company is offering the chance to boldly go where no Singaporean has gone before: space.
XCOR Space Expeditions, which develops commercial space shuttles, will take travellers to the final frontier from late next year.
A model of the shuttle to be used, the XCOR Lynx Mark II, is now on display outside Shaw House in Orchard Road as part of a roadshow for Swiss watch company Luminox.
More than 300 people worldwide, from countries including China and Britain, have bought tickets for the space flight, but so far only three from Singapore have expressed an interest.
One is lawyer Simon Tan, 49, who has dreamt of going into space since he was six.
He said: "It has been a fantasy of mine because of characters like Astro Boy and Ultraman. It is not a matter of money but of opportunity and ability. I would do it even if it meant collateralising my investments and mortgaging my house."
Potential space travellers must be over 18, under 2m tall and below 120kg in weight. They must also go through a health check-up and be certified medically fit.
They must then attend a training programme in the Netherlands and experience a simulation of the suborbital flight, including an illusion of weightlessness. This will cost €3,500 (S$5,760) excluding airfare.
The shuttle will hold just a pilot and a passenger, who will be required to co-pilot and perform basic tasks like read instruments.
The flight will depart from the Caribbean island Curacao and travel 103km above sea level to enter space in about three minutes.
The passenger will be able to spend five to six minutes viewing earth and experiencing weightlessness. Pictures are allowed.
The return journey will take about 40 minutes and the passenger can ask the pilot to steer towards landmarks, such as the Grand Canyon, for a better view.
Ms Pamela Tan, brand manager of Luminox distributor Crystal Time, said: "It is now only a matter of time before space tourism is possible."
The Science Centre Board, Singapore Space and Technology Association and IN.Genius, a local firm focusing on high-tech energy solutons, plan to send a Singaporean up near space next year.
cherylw@sph.com.sg

This article was first published on Aug 30, 2014.
Get a copy of The Straits Times or go to straitstimes.com for more stories.