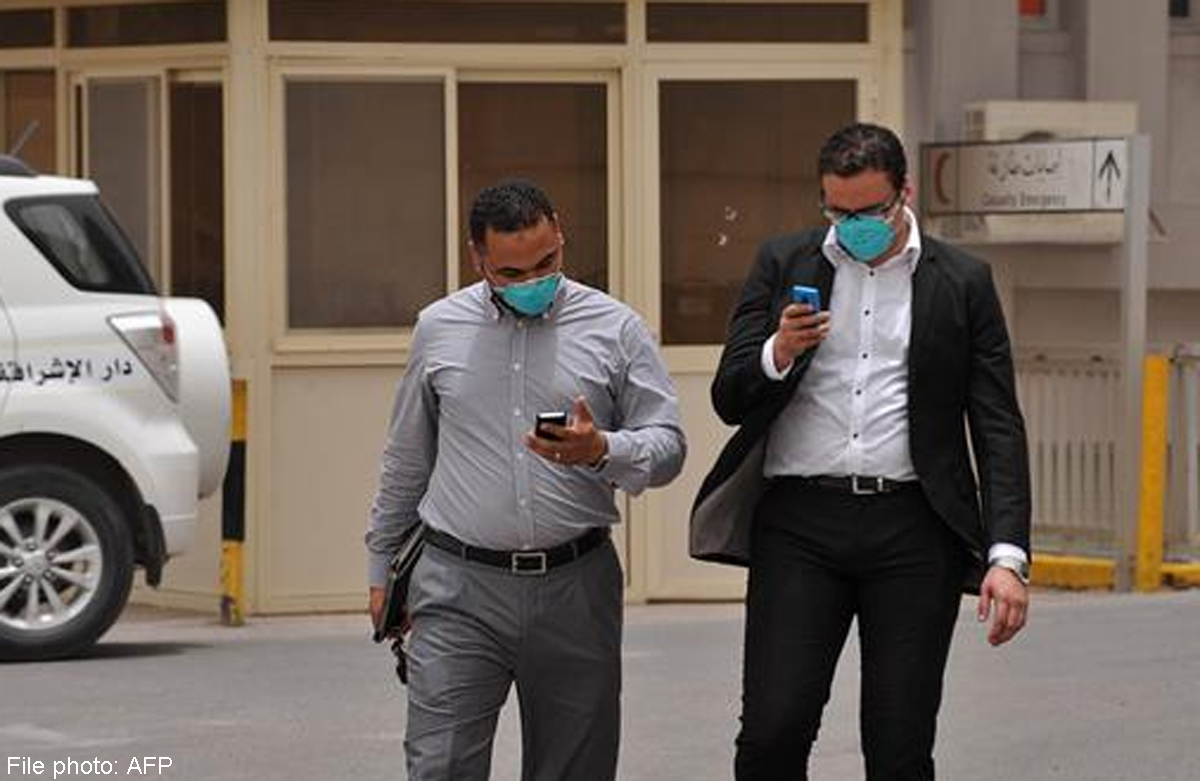 JEDDAH - The first paper face masks appeared at check-in before the early morning flight from Saudi Arabia's capital Riyadh to Jeddah, where a sudden surge of infections of Middle East Respiratory Syndrome (MERS) has alarmed some residents.
In Jeddah airport, a Mecca-bound pilgrim with religiously prescribed white toga and shaven head wore a mask under a pair of designer sunglasses. On a nearby bench, a mother adjusted masks on two small boys.
It was a sign of the alarm in this humid Red Sea city after a 47 per cent jump in the past month in the number of confirmed cases of MERS, a virus identified in Saudi Arabia two years ago and which can cause coughing, fever and pneumonia.
Of the 91 new cases announced in the kingdom in April, 73 were in Jeddah. Many of those infected were healthcare workers. "Everyone I know, my friends, neighbours, relatives, it's like we were on the dark side," said Lamya Gazzaz, a former nurse and longtime Jeddah resident, speaking of the early days of the outbreak when rumours swirled around the city. "There was lots of confusion. Relatives kept their children at home. People were worried about going to hospitals for their appointments," she added.
Another Jeddah resident, 35-year-old Roula, who did not want to give her family name, said many of her friends were scared. "My friend's uncle died two days ago after going to a hospital. I didn't even go to the funeral because I'm worried they might be carrying the virus. Everyone who did go wore a mask," she said.
Public concern has been heightened by the spread of rumours on social media that there were many undiagnosed cases, as well as accusations of government cover-ups and inadequate hygiene procedures in some hospitals.
The Health Ministry has denied such charges. But the authorities struggled in the early stages of the outbreak to gain control of the public message, simply issuing stern warnings against the spreading of rumours.
LINK TO CAMELS?
The World Health Organisation (WHO) says it is "concerned"and has offered to help investigate the outbreak in Saudi Arabia and another in the United Arab Emirates.
Since MERS first emerged in April 2012, some 253 laboratory-confirmed human cases have been reported to the WHO, including 93 deaths. While the vast majority are in Saudi Arabia, there have also been cases in Jordan, Kuwait, Oman, Qatar, as well as Europe, North Africa and Asia.
The WHO said the source of infection remains "undetermined", but evidence is growing of a link to camels, believed by many experts to be the animal reservoir of the virus.
MERS is from the same virus family as SARS, which killed some 800 people worldwide after emerging in China in 2002.
On Monday, King Abdullah replaced health minister Abdullah al-Rabeeah, a noted surgeon whose attempts to reassure the public with reminders that MERS is not easily spread between people were dismissed by many Saudis as an attempt to downplay the gravity of the situation.
Despite heading a team that separated a pair of conjoined twins on April 10, when three new MERS cases were identified in Jeddah, al-Rabeeah lacked the popular touch of the man who has replaced him on an acting basis, Labour Minister Adel Fakieh.
Fakieh's first moves in his new job were to tour Jeddah's King Fahd Hospital, where some of the cases were discovered, and to pledge to uphold "the principles of transparency".
King Fahd Hospital felt unusually quiet for a major city health facility this week.
Almost every person in the building wore masks. Posters in the mainly empty waiting rooms advised on preventative measures such as wearing masks and gloves and frequent hand-washing. "It's normal for there to be a panic during an outbreak because it's a high mortality event. People get the flu and then in five or six days they're on a ventilator," said Maun Nizar Feteih, a consultant pulmonologist in Jeddah. "Even as healthcare workers, we panic because we see colleagues - doctors and nurses we work with - who are suddenly in intensive care. But ... I think things are moving in a positive direction," Feteih added.
He said authorities had worked to educate both healthcare workers and patients about prevention and had collaborated with hospitals to isolate suspected and confirmed cases.
LOSS OF CREDIBILITY
That view was not universally shared by people working in Jeddah hospitals, however. "Healthcare workers lost trust in the Health Ministry. It lost its credibility," said a senior healthcare worker in the city with decades of experience.
She pointed to what she described as poor file-keeping, an initial lack of protective clothing and proper guidance and resistance by some administrators to report MERS cases.
In the expensive Khaldiya neighbourhood, where the pink flowers of bougainvillea bushes spill over the tops of residential walls, the al-Sudais pharmacy was doing a roaring trade in face masks and hand-sanitising gels. "Jeddah people are scared. They come in here and buy vitamins, calcium tablets, pain killers and flu drugs. They buy four or five cartons of face masks at a time and boxes of hand sanitisers," said Gassan Youssef, 22, a salesman.
But not all of those walking the city's muggy streets or strolling the marbled corridors of its chilled shopping malls were worried about being infected while out in public.
A taxi driver waved a dismissive hand across his bushy grey beard and said dozens of people died in car crashes on Jeddah's roads every week. "Why should we worry because one or two people get this virus?" he asked.