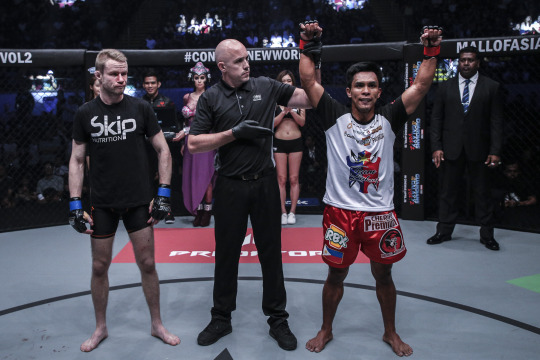 A pair of former bantamweight title contenders clashed at ONE: KINGS OF DESTINY on Friday Night, 21 April, with one specific goal in mind: to get a second shot at ONE Bantamweight World Champion Bibiano "The Flash" Fernandes.
Finnish submission guru Toni Tauru looked to defeat his second consecutive Team Lakay fighter and state his case for a title rematch, but Kevin "The Silencer" Belingon would not allow it, let alone lose in front of thousands of his countrymen at the Mall Of Asia Arena in Manila, Philippines. He was able to TKO the European inside the opening stanza.
Referee Olivier Coste had his hands full with the high pace set by both men. Tauru tried to impose his height and weight advantage on his opponent by backing Belingon toward the fence, but "The Silencer" circled and left an array of bruising kicks all up and down the left leg of his foe.
Tauru had his opportunity when he caught a kick to the body and pushed into Belingon looking for a takedown, but he was unprepared when the Filipino hero popped back to his feet and unloaded with a flurry of strikes, ultimately connecting with his nose.
The end came soon thereafter when Belingon delivered a cracking blow that put the Finn on the canvas. Tauru was not out cold, but he was out of options, verbally tapping out to strikes at the 2:27 mark of the first round.
Belingon improves to 15-5, and had a dominant showing, the type that could very well earn him a second chance to challenge Fernandes for the belt at a future ONE Championship event. Meanwhile Tauru drops to 11-6, and may need to re-think his nickname as all of the "Dynamite" was in the hands and feet of his opponent.