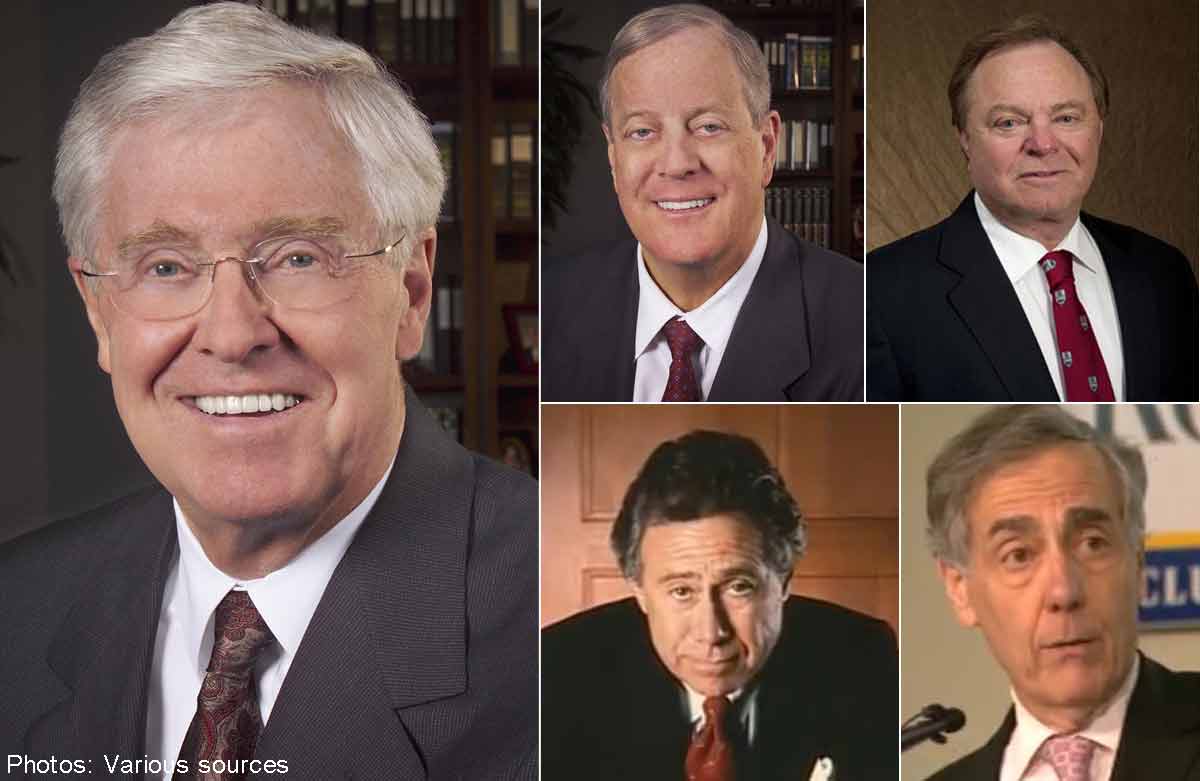 SINGAPORE - Charles and David Koch of Koch Industries have been listed by research company Wealth-X as the richest individuals in America's oil and gas industry.
The brothers, who are from the state of Kansas have a reported net worth of US$83 billion (S$106 billion), said Singapore-based company Wealth-X. They are the principal owners of the Wichita-based company which was founded by their father, Fred Koch, in 1940.
Both of the Koch brothers own 42 per cent of the oil and gas company dealing in manufacturing, refining and distribution of petroleum, chemicals and other materials.
The billionaire brothers are also dedicated supporters of the Republican party in the United States, and have leveraged their wealth in the political area, said Wealth-X.
Their donations have also brought some criticism as they have been said to "hide" their funding activities behind welfare organisations, said Majority Leader of the US Senate, Harry Reid.
British news media The Independent highlighted a recent study by the Washington Post and the Centre for Responsive Politics which estimated that around 17 Koch-backed groups spent a combined US$400 million "trying to influence the outcome of the presidential race" and other elections in the United States.
Philip Ellender, the president of Koch Companies Public Sector, rebutted this claim, saying that it is the brothers' First Amendment rights "to advocate for their fundamental beliefs in individual liberty, limited government, and the promotion of policies that help people improve their lives" by supporting a political party.
After the Koch brothers, self-made billionaire Harold Hamm of Continental Resources is the third wealthiest individual in the American oil and gas sector with a net worth of US$14.1 billion, according to Wealth-X.
Oklahoma-based Hamm and his wife of 25 years, Sue Ann, are currently fighting a high-profile divorce case. According to online media, the oil tycoon is speculated to lose billions as there was no prenuptial agreement signed. The couple are splitting due to an alleged affair by Hamm, reported British tabloid Daily Mail .
Daily Mail also estimated that the settlement could come up to US$3 billion which will surpass the world's most expensive divorce between publishing mogul Rupert Murdoch and his second wife, Anna, at a pay-out of $1.7 billion in 1999.
Two women who appeared on this male-dominated list, Milane Frantz and Elaine Tettemer Marshall, have inherited their fortune from her late father and late husband, respectively.
Despite the increase of oil millionaires in North Dakota, Wealth-X president David S. Friedman noted that there is no significant increase in ultra wealthy individuals from that state.
Most of the billionaires on the list are from the state of Texas and the remaining oil tycoons come from New York and Oklahoma.
wjeanne@sph.com.sg