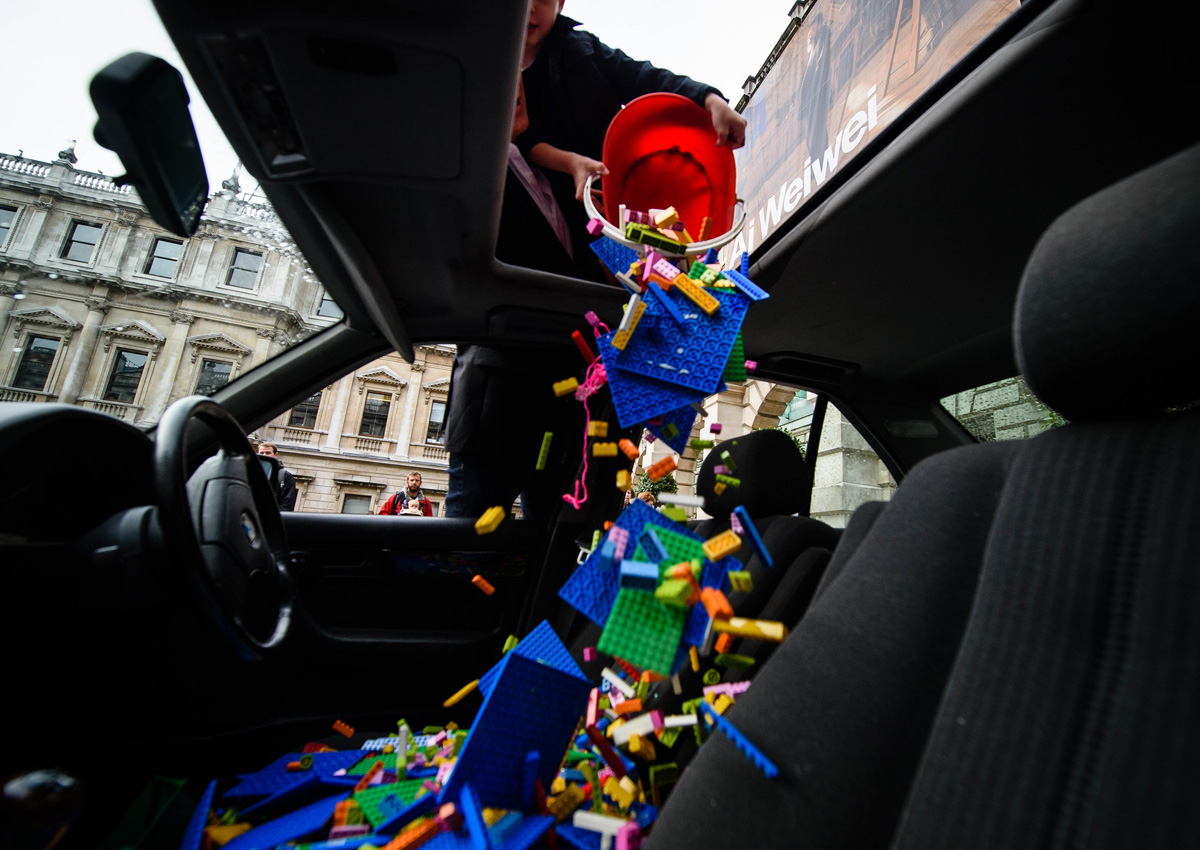 LONDON - One of Britain's most prestigious art institutions installed an old car Friday as a collection point for Lego block donations, after the toy company refused to supply Chinese artist Ai Weiwei.
The children's toy became embroiled in controversy when Ai said its manufacturer had refused to supply him directly as it "cannot approve the use of Legos for political works".
The move triggered an outpouring of offers of Lego blocks from the public, prompting Ai to set up collection points in London, Beijing, Berlin and Melbourne.
"I wanted to help him to be able to make the thing he wants to make. Lego is quite expensive, but I have had it for quite a long time and it's better to give it to someone who's going to use it," said Madani Sidibe, 11.
Sidibe and other children had poured their bricks through the sunroof of a second-hand BMW sedan parked on the ornate Palladian forecourt of London's Royal Academy of Arts, which is currently hosting an exhibition of Ai's works.
The same model of car has been installed in other cities to collect the blocks.
Ai has used Lego bricks to create portraits of political activists from around the world for an exhibition at Alcatraz prison in the US last year, and intended to create a Lego artwork for a show in Australia.
A statement from Lego published in a British newspaper this week said the company could not endorse "the use of Lego bricks in projects or contexts of a political agenda".
Ai is China's most prominent contemporary artist, who helped design the Bird's Nest stadium for the Beijing Olympics and his work has been exhibited worldwide, but he has also run afoul of Communist authorities.
He is a fierce critic of the Chinese government's record on human rights and freedom of speech, and was detained for nearly three months in 2011 due to state allegations of "economic crimes".
"My parents said that Lego wouldn't give him any. I don't know why," said nine-year-old Remy, who had donated a pocketful of blocks.
"I think he was in prison because he got angry with the government. I think they shouldn't put him in prison. It's just crazy." Sarah Del Corral, 40, a mother of two children aged seven and four, said she had tried to explain the reasoning behind donating their Lego bricks, but did not think they had understood.
"To be honest I think my kids just like throwing Lego in a car."