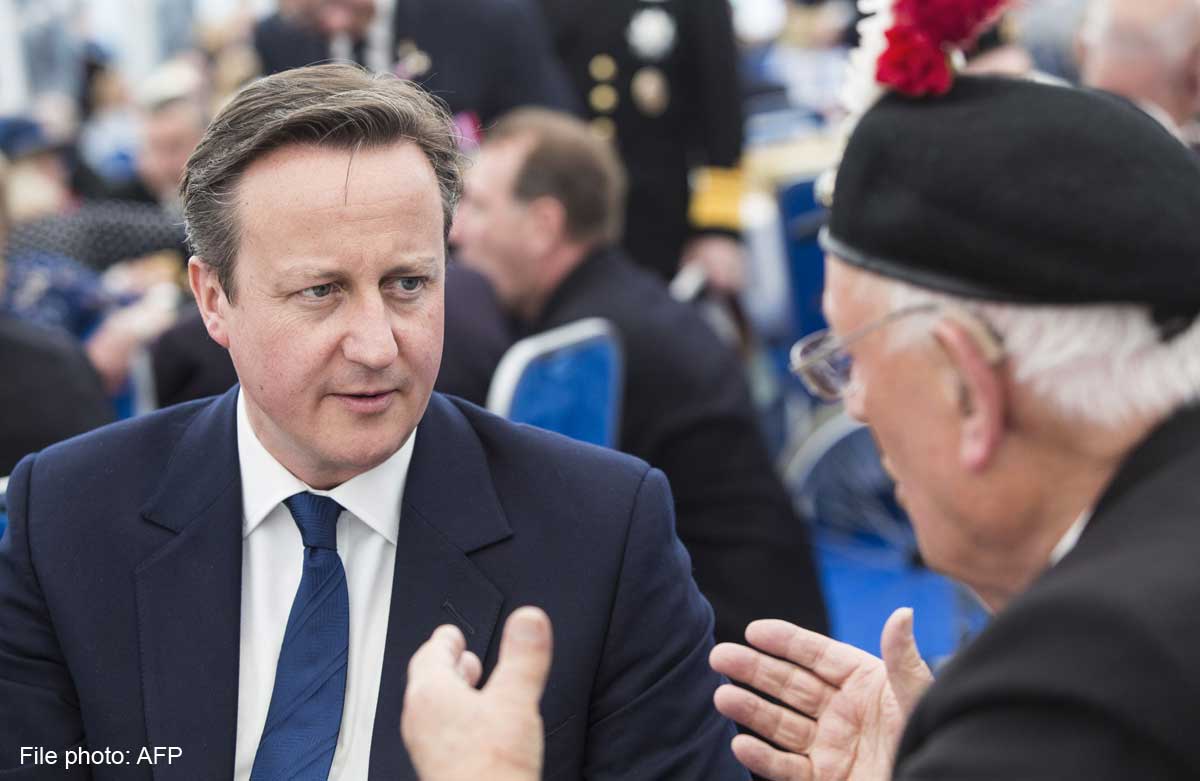 LONDON - Prime Minister David Cameron had barely toasted his surprise election victory before attention turned to Britain's future in Europe and the onerous task of quelling rebellious eurosceptics within party ranks.
In some of his first comments since winning Thursday's election, Cameron said he had contacted European Union leaders to begin renegotiation of Britain's terms of membership, before holding an in-out referendum.
"I've already made some calls to European leaders," Cameron told Channel Four news. "The renegotiation first, then the referendum before the end of 2017."
Cameron says he will campaign to stay in the EU, but only if he can secure reforms such as changes on migration and benefits and the repatriation of certain powers to London.
The centre-right leader will have to strike a delicate balance to both appease partners and the anti-EU faction of his Conservative party, who quickly put pressure on the prime minister on the subject.
On Sunday, influential MP Graham Brady urged Cameron to allow eurosceptic ministers to campaign for Britain to leave the EU if they wish, in order to avoid the appearance of a "rancorous split".
"The more you try to constrain people's views, to limit debate, the more you create tensions which needn't necessarily be there," Brady told BBC radio.
Cameron's narrow majority of just 12 seats in parliament means the eurosceptics' influence is amplified as just seven need to rebel to stop a bill passing.
The new situation has raised comparisons with that of former prime minister John Major, who was tormented by Tory rebels during negotiations to create the European Union with the Maastricht Treaty.
British newspaper front pages on Monday indicated trouble ahead. The Daily Express' headline was "Britain to get tough with EU: At last!" while i newspaper declared "Europe: the battle begins".
Meanwhile in an editorial, The Times said a plan to share refugees arriving from outside the EU among the bloc's 28 countries posed a "direct threat to British membership".
The Home Office said Britain was prepared to "oppose any EU Commission proposals to introduce a non-voluntary quota" of refugees.
'Hostage to hardliners' 
Cameron may try to capitalise on his current popularity and force through change before the summer.
The premier is set to send finance minister George Osborne and foreign minister Philip Hammond to Berlin and Brussels to negotiate a new deal, according to the Sunday Times.
But it also reported that up to 60 rebel MPs were preparing to demand new powers for the Commons to veto any EU law, a plan Cameron previously called "impossible".
Like Major, Cameron has filled key cabinet roles with eurosceptics in a bid to placate potential rebels, while alarming Brussels.
Straight after victory on Friday, Cameron announced that Hammond and Michael Fallon would keep their jobs as foreign minister and defence minister - both of whom have said they would vote to leave the EU if powers were not brought home from Brussels.
Cameron appointed the outspoken Michael Gove as justice minister to lead the abolition of Britain's Human Rights Act - an election manifesto pledge aimed at stopping the European Court of Human Rights overruling British courts.
Financial Times writer Philip Stephens warned Cameron's positioning could backfire.
"By demanding a new settlement and setting a 2017 deadline for an in-out referendum, the prime minister has offered himself as a hostage both to his European partners and to the hardline eurosceptics in his own party," Stephens said.
Experts warned legal barriers could make it tough for Cameron to secure major concessions, while a combative reputation could work against him in Brussels.
"In the past, Cameron has antagonised some of his European colleagues," said Professor Sara Hobolt, a European politics and electoral behaviour expert at the London School of Economics. "It's not really the EU way of working."
Limits to freedom of movement are staunchly opposed by Eastern European countries that have previous been Britain's allies.
"Poland's strategic interest is to keep Britain in, but it does not mean we will agree to anything. Competition and the internal market are sacrosanct. And so is freedom of movement," warned Poland's Europe minister Rafal Trzaskowski in the Financial Times on Sunday.
But change could be possible in other areas, such as restricting European migrants' access to public services in Britain.
"Cameron can get something on immigration - access to in-work benefits, restrictions on access to health service - all of these things are feasible without treaty change," Hobolt said.
"But he can't get something on freedom of movement of labour."