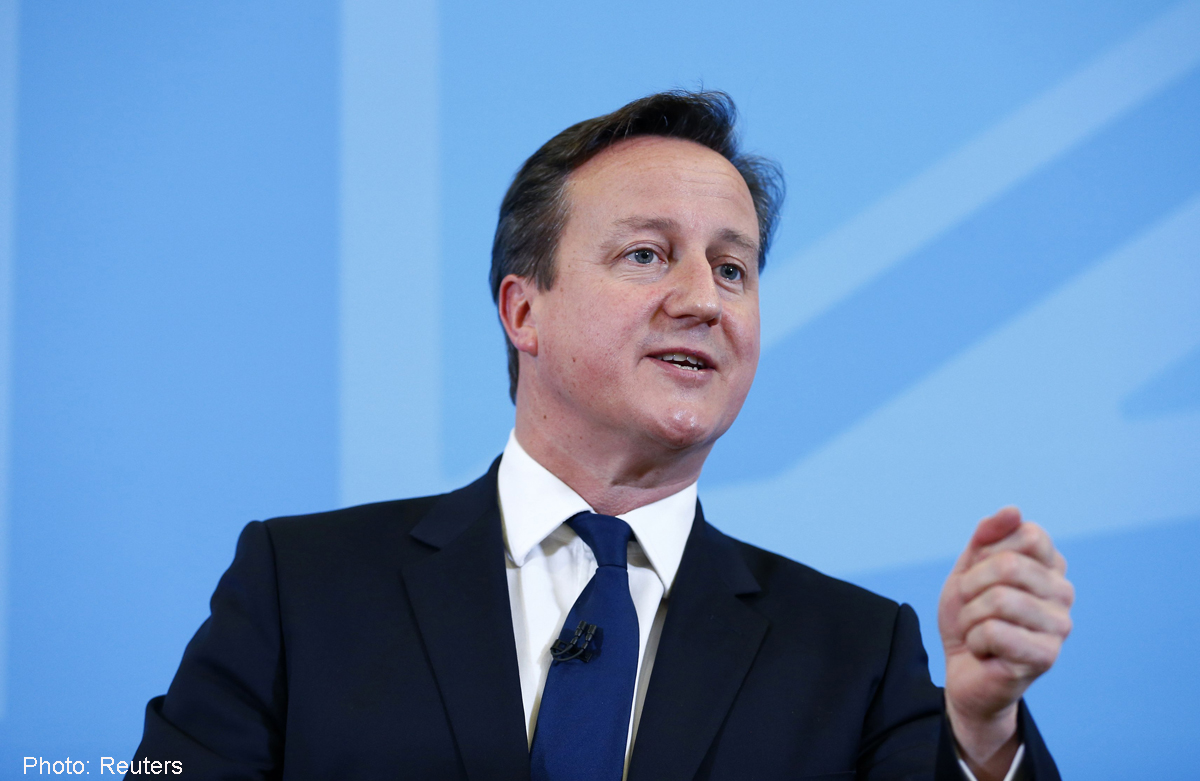 LONDON - A billionaire lord who has restyled himself as a pollster is providing Britain with unprecedented information about battleground constituencies ahead of a national election on May 7, potentially influencing some decisive races.
A self-made business tycoon who donated over 10 million pounds (S$21 million) to the ruling Conservatives in the past, Michael Ashcroft has spent millions on non-partisan polls in "marginal" seats where there is a tight race between two or more parties, and is giving away the information gathered for free.
"It potentially fundamentally changes the nature of some of these seat level races because it gives all players in the race information that they wouldn't otherwise have had," said Rob Ford, political scientist at the University of Manchester. So it's going to affect the way they campaign, where the parties put their resources."
National polls have been commonplace for decades, but until now barely any local polls have been available to the public because they are more expensive to conduct and media organisations don't have the money to pay for lots of them.
Ashcroft, who cites with pride his media moniker "The Pollfather", does not seek to predict the outcome in the local seats that will decide the election. But his data adds nuance to a complex national picture in which the Conservatives and opposition Labour are dead even while support for government coalition partners the Liberal Democrats has collapsed.
Muddying the waters, anti-EU party UKIP on the right and the Greens on the left are enjoying support at unprecedented levels, while in Scotland the nationalist SNP threatens previously unassailable Labour bastions.
Ashcroft has published 170 polls from 134 constituencies since May last year, with more to come. He makes them available for free on his Lord Ashcroft Polls website, along with detailed comments and focus group surveys.
The previous dearth of data is one of several reasons why Britain so far has no equivalent of Nate Silver, the star US forecaster who called all 50 states right in the last presidential election.
Silver tackled the 2010 British election, but his final projection of seats by party in the 650-strong House of Commons was off the mark by 105 seats, a measure of how hard it is to figure out who is likely to win, seat by crucial seat.
PARADOX
The paradox, given Ashcroft's lifelong commitment to the Conservatives, is that his polling is most likely to benefit his party's opponents, notably UKIP. "What annoys some people in Conservative HQ is that... he's shone a light for UKIP at which seats they should be focusing their resources on," said Tim Montgomerie, a prominent Conservative activist and political commentator.
In the Conservative-held Cannock Chase seat, for example, an Ashcroft poll showed Labour leading UKIP by a thin margin with the Conservative candidate in third place. For UKIP, that data is gold because they can use it to persuade right-leaning voters to ditch the Conservatives and vote for them as the best way to prevent a Labour victory in the seat.
The polls can also be useful to the Conservatives' opponents on the left, such as former senior Liberal Democrat Matthew Oakeshott, who last month donated 610,000 pounds ($942,000) in total to left-leaning candidates in 46 marginal constituencies.
Oakeshott, acting independently after falling out with Lib Dem leaders, wants to help prevent the emergence of a Conservative-led coalition and instead increase the chances of a Labour-led government supported by Lib Dems and perhaps Greens.
Using the Ashcroft polls to help identify candidates with a good chance of defeating Conservative or UKIP rivals, Oakeshott shared out his donation among 30 Labour candidates, 15 Lib Dems and one Green. "I've invested as carefully as I can," he said.
Ashcroft, who rarely gives media interviews and declined to talk to Reuters, says on his website: "Some of the research yields encouraging conclusions for the Conservatives, and some of it does not." He adds that he likes "to provoke discussion and debate" and"keep politicians on their toes".
"SMELL THE COFFEE"
Ashcroft's relationship with the Conservatives, which began with his first donation in 1981, has never been straightforward.
His largesse kept the party afloat in tough times after a Labour landslide in 1997 and for a while he was among the single biggest donors, but no longer donates now.
As party treasurer and later deputy chairman he helped shape party strategy in the past, but also criticised the leadership.
After the party lost its third election in a row to Tony Blair's Labour in 2005, he published a book entitled "Smell the Coffee" intended to shock the party into modernising its image.
But Ashcroft also embarrassed the party with his tax status, disclosing in 2010 that as a "non-dom" he did not pay tax in Britain on his overseas earnings. He then gave up non-dom status to keep his seat in parliament's upper House of Lords.
Ashcroft provided private polls and surveys to Conservative strategists ahead of the last two elections. However since the 2010 election that brought Conservative Prime Minister David Cameron to power, he has started publishing his polls, something that has given him influence far beyond the confines of the party.
"Five years ago he was regarded as one of the dark masters of the Conservative Party's campaign and everyone on the left was very suspicious of him," said Ford. "Now he's cited as an authority from people in all sections of the political spectrum."