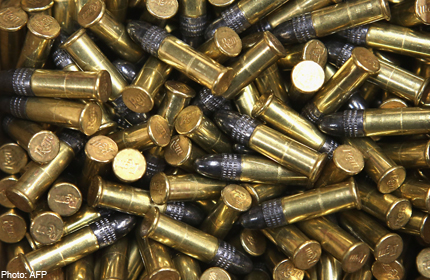 Taiwan's Armaments Bureau Factory 205 yesterday morning revealed that during the Iraq War, the US procured 500 million bullets from Taiwan.
The factory revealed the fact to local press on location during an open factory tour yesterday, and displayed an ammunition production line with an annual productivity of 100 million bullets.
Currently, the factory still produces bullets for commercial use, exported predominantly to the US
Presented to the media were large numbers of bullets waiting to be packed and sent to the US
The number 205 manufacturing centre is a plant that only produces small arms, bullets and explosives.
Reportedly, since 2006, the plant started to make commercial and military ammunition.
The factory also presented a 2006 appreciation plaque from the US to local media.
According to the plant, the factory produced 500 million bullets for the American military from 2006 to 2009 for use in the Iraq War. Products made include ammunitions specifically tailored for 5.56 millimeter and 7.62 millimeter rifles.
Although the order for the war has been terminated since 2009, the factory continues to produce commercial bullets for the United States market.
The factory operates three production lines for brass shells, three bullet production lines, three assembly lines and a final line for packaging.
In recent years, the manufacturer has developed five new kinds of anti-terrorist sniper rifles and accessories, and a new type of immersive T91 training gun that has since received three new patents with two more pending.
The weapon was patented in Japan last November, protecting it from possible infringement.
As stated by the factory, the quality of the T91 has garnered the interest of military officials from a South American ally, who went on to inquire as to the possibility of receiving the product as a gift.