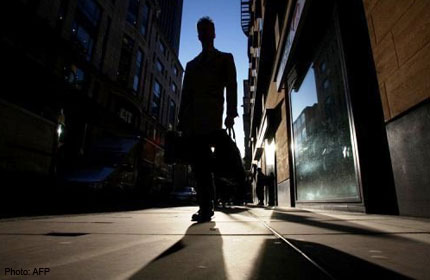 PARIS - The 2008 financial crisis that devastated many Western economies also reaped a heavy toll in suicides among men, a study published on Tuesday suggests.
Health researchers analysed data for suicides among people aged over 15 in 54 countries, comparing rates before and after the crash.
In 2009, there were 4,884 more suicides compared with the normal trend, they said.
Suicide numbers in 2009 were 4.2 per cent higher in 27 European countries and 6.4 per cent higher in 18 countries in the Caribbean and Latin America.
The benchmark is the suicide trend for 2000-2007, extrapolated to 2009.
The increases occurred among men, rising 3.3 per cent in 2009 compared with this trend, says the study, published online by the British Medical Journal (BMJ).
Among European men, there was an 11.7 per cent rise in suicides in the 15-24 age group.
In the Americas, the biggest increase was among men aged 45-64, which saw a rise of 5.2 per cent.
Among women, though, there was an overall decline of 0.5 per cent in 2009 compared with what would have been expected if the crisis had not occurred.
"After the 2008 economic crisis, rates of suicide increased in the European and American countries studied, particularly in men and in countries with higher levels of job loss," said the authors.
They noted that unemployment in Europe shot up in 2009 by between 17 and 35 per cent according to the country, and by 25 to 36 per cent in 2010.
In North America, unemployment rates began to rise in 2008, lifting by 23 per cent, and almost doubled the following year.
Caribbean and Central American countries had rises of 40-45 per cent in the unemployment rate in 2009-10, but there was no increase in South American countries.
East Asian countries experienced a relatively small rise in unemployment, of 26-27 per cent in 2009-10.
The survey covered 21 European Union member states; six non-EU countries, including Russia; the United States, Canada and 16 countries in the Caribbean and Latin America; four Asian economies (Hong Kong, Japan, South Korea, Singapore) and five other countries, including Mauritius and Israel.
Suicide data for the United States came from the Centers for Disease Control and Prevention (CDC); data for the other countries came from the World Health Organisation (WHO) database.
Previous research into the link between economic crisis and suicides found that more than 10,000 people in Japan, South Korea and Hong Kong ended their lives after the 1997 crisis in Asia.