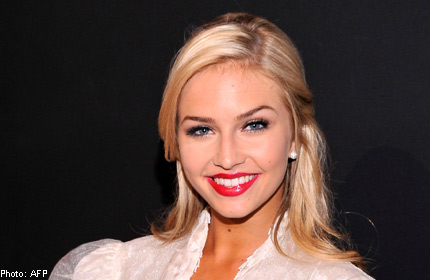 LOS ANGELES - Federal investigators in California arrested a 19-year-old man Thursday accused of hacking into online accounts of women including Miss Teen USA and threatening to publish nude photos of them.
Jared James Abrahams surrendered to FBI agents probing so-called "sextortion" cases, in which he made demands in return for agreeing not to publish the pictures.
The investigation involved multiple victims in California as well as Canada, Moldova and Russia. The most high profile was Cassidy Wolf, who won the Miss Teen USA pageant in August.
Wolf, 18, called in investigators in March after receiving threatening emails containing nude photos of her.
The sender said he would distribute the pictures "all over the Internet" unless she either sent him a personal video of herself, joined him on Skype for a video chat for five minutes and do whatever he told her to, or sent him "good quality pics" of herself.
"Either you do one of the things listed or I upload these pics ... on all your accounts for everybody to see, and your dream of being a model will be transformed into a pornstar," he wrote, according to an FBI arrest warrant affidavit.
Abrahams appeared in court Thursday and was released in lieu of US$50,000 (S$62,000) bail, and "will be subject to pretrial supervision and home detention with electronic monitoring," said Federal Bureau of Investigation (FBI) spokeswoman Laura Eimiller.
A judge also restricted his computer use to a desktop at his parents' home for school work, with monitoring software installed, she said.
He is due back in court on November 4.