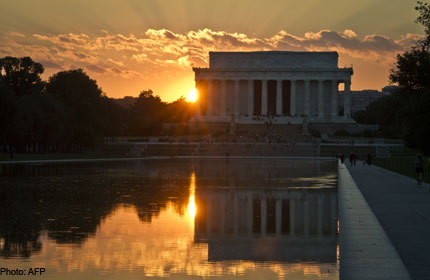 US - As the United States govern- ment shutdown enters its second week, squeezed businessmen, exasperated citizens and even a few fed-up politicians have joined forces across the US in acts of defiance, large and small.
In North Carolina, innkeeper Bruce O'Connell drew national attention when he briefly reopened the Pisgah Inn, a scenic spot 1.5km above sea level on the Blue Ridge Parkway. The inn was ordered to be shut by the National Park Service last week because it sits on government property.
After a brief moment of defiance, the innkeeper reluctantly closed the inn again, but he has hired lawyers to seek permission from a federal judge to reopen and put his nearly 100 employees back to work during what is typically their busiest season.
"We're not giving up," Mr O'Connell said on Tuesday.
He was among many across the country taking a stand against the shutdown, a result of Republicans' efforts to delay parts of President Barack Obama's health-care law.
Even some state agencies are defying the shutdown. Wisconsin's Department of Natural Resources has ignored a federal directive to close seven state-park properties.
Despite a call on Monday from the National Park Service, the department is standing firm. It said only 18 per cent of the parks' funding, or about US$700,000 (S$876,000), comes from the federal government. On Tuesday, department secretary Cathy Stepp said: "We said firmly, but respectfully, that we're going to keep going."
Some citizens - even in the face of obstacles - refused to back down. An estimated 1,000 hikers and bikers entered Acadia National Park in Maine on Monday, bypassing barricades and signs declaring the park and its roads closed, according to local media reports.