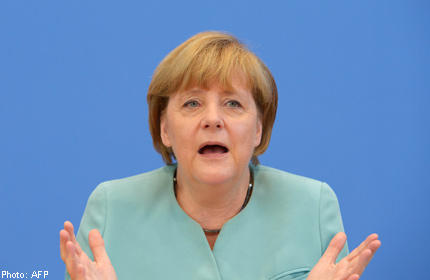 BERLIN - Angela Merkel, an unflappable pastor's daughter, cemented her title as the world's most powerful woman Sunday, triumphantly romping home to a third term as German chancellor.
Her position going into the election had already been so strong that she often seemed to transcend politics, simply ignoring her opponent Peer Steinbrueck along the way.
But her historic victory in Sunday's vote was a personal triumph, bringing home the conservatives' top score since reunification in 1990 and nearly capturing an absolute majority.
She becomes only the third post-war chancellor to secure a third term, alongside fellow conservatives Konrad Adenauer and Helmut Kohl, the father of national unity.
This month a giant billboard went up at Berlin's main train station featuring only a picture of the 59-year-old chancellor's hands folded in her trademark diamond-shape gesture.
Quite simply, the mighty Merkel was the message.
After eight years at the helm of the top European economy, and three as the go-to leader in the eurozone crisis, Merkel was rewarded for navigating the country through the turmoil and leaving it stronger than before.
But abroad, angry protesters have marched through the streets of Athens, Lisbon and Madrid blaming her for national budget cuts they say are choking off desperately needed economic growth, some even brandishing caricatures of Merkel in Nazi garb.
"I am determined to see Europe emerge stronger from the crisis," she intones regularly. "Germany can only be strong with a strong Europe".
During a widely criticised campaign virtually devoid of real substance, observers complained that Merkel lulled the prosperous country into a false sense of security 23 years after its joyful reunification.
"Merkel perfectly embodies the sensibilities of the Germans in the early 21st century," the publisher of the influential weekly Die Zeit, Josef Joffe, wrote last month.
"You don't have to expect any threatening new tacks from her, no tough decisions for or against. She is perfectly predictable in her flexibility and the risk-averse electorate loves it. Merkel is us, and we are Merkel."
Her late biographer Gerd Langguth found a "sphinx-like quality" in her, allowing Merkel to quietly triumph in the most unlikely circumstances.
Merkel dispensed with rivals in her conservative Christian Democratic Union (CDU) despite being a misfit in a party of mainly Roman Catholic family men from the wealthy southwest.
A twice-married childless Protestant raised in communist East Germany, she has become the unchallenged conservative leader of her generation.
Power player and Swabian housewife
The girl born Angela Kasner in 1954 left Hamburg in then West Germany a few weeks after her birth when her Protestant preacher father decided to tend to the flock in the East.
Locals remember her fierce intellect and discretion as a Christian in a totalitarian state.
She earned a physics doctorate, married and divorced fellow student Ulrich Merkel, and stayed out of politics until the Berlin Wall fell in 1989.
In 1990 she joined the CDU and won her first parliamentary seat.
Then chancellor Kohl made her minister for women's issues and later environmental affairs, and bestowed on her the fond but patronising nickname "the girl".
But in 2000, the frumpy newcomer rose to the head of the CDU when she alone had the courage to tell Kohl to quit as party chairman over a slush fund scandal.
In 2005 she unseated Social Democratic (SPD) chancellor Gerhard Schroeder after seven years in power, becoming Germany's first female chancellor as well as its youngest.
She is also the only woman to lead a major European power since Margaret Thatcher of Britain.
During her first term, Merkel presided over a loveless "grand coalition" between the conservatives and their traditional rivals, the SPD.
Her decisive victory in the 2009 vote allowed her to drop the SPD in favour of the smaller, pro-business Free Democrats, but her junior ally crashed out Sunday sending Merkel back to a right-left tie-up.
Forbes magazine has named her the world's most powerful woman for seven out of the last eight years.
Critics say her science background leads her to scrutinise the minutiae and at times dither, which in the euro crisis has left ailing European partners to twist in the wind. Rivals also find her chameleon-like qualities exasperating.
Merkel was a staunch defender of nuclear power until Japan's Fukushima disaster in 2011, prompting a dizzying about-face that has seen her pledge to phase out all of Germany's nuclear power reactors by 2022.
A lover of German opera, French red wine and walking holidays in the Italian mountains, Merkel has repeatedly pointed to the iconic Swabian housewife - a paragon of thrift and self-control - as her model.
She shuns the trappings of power, wearing boxy trouser suits, spending precious free weekends in her spartan dacha north of Berlin, and doing her own shopping at a discount supermarket.
She remarried in 1998. Her chemist husband Joachim Sauer so rarely appears in public that he is nicknamed "The Phantom of the Opera".