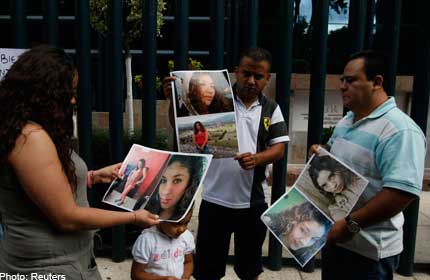 MEXICO CITY - Mexican authorities have confirmed that 12 bodies pulled from a mass grave last week belong to young people kidnapped from a Mexico City bar in May, an official said Tuesday.
A 13th body was recovered from the grave outside the capital but officials have not indicated whom it might be.
The 12 young people, aged 16 to 34, were kidnapped in broad daylight three months ago in a bar at the heart of the capital.
An official from the federal attorney general's office said the bodies were identified through DNA testing and other means.
The office said in a statement that the remains were handed over to the city prosecutors, who are leading the investigation.
But some relatives of the victims said they were shown clothing found at the grave but that they did not belong to their loved ones.
"The clothes they showed us don't belong to any of the kids," Leticia Ponce, mother of 16-year-old Jerzy Ortiz, told AFP.
The families refused to take the bodies because they first want independent forensic experts from Argentina to examine the remains.
The brazen mass killing has tarnished the capital's image as an oasis from the drug-related murders and kidnappings that have plagued the country in recent years.
More than 70,000 people have been killed in drug violence since 2006.