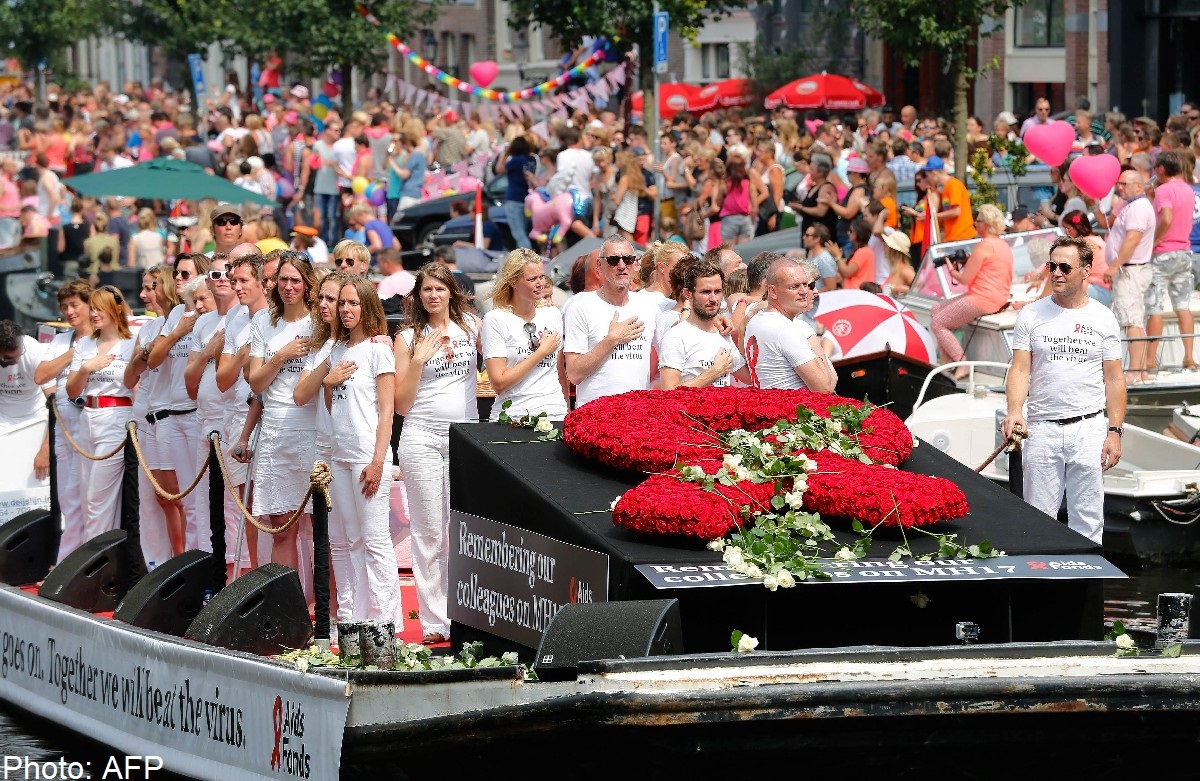 AMSTERDAM - Two boats carrying white-clad colleagues of AIDS campaigners killed in the MH17 crash in Ukraine marked a sombre start to the traditionally flamboyant Amsterdam Gay Pride parade on Saturday.
Canal boats carrying around 50 AIDS campaigners carried signs reading "Remembering our colleagues on MH17" and "Our work goes on. Together we can beat the virus".
Six AIDS campaigners and researchers, including top Dutch expert Joep Lange, were among the 298 people killed when the Malaysian airliner was shot down over Ukraine on July 17.
They were headed from Amsterdam to an AIDS conference in Melbourne, Australia. A total of 193 Dutch people were killed in the crash.
Amsterdammers and visitors lined the city's historic canals to applaud the boats as they passed, 15 minutes before dozens of party boats kicked off the festive parade.
Between 300,000 and 400,000 lesbian, gay, bisexual and transgenders from around the are expected to throng the multicoloured beats-fuelled party in historically tolerant Amsterdam.
For the first time, the Amsterdam parade has a Dutch Moroccan boat, featuring dancers wearing pink djellabas, and a Jewish boat.
One of the Jewish boat organisers tweeted ahead of the parade: "Proud and thankful that we can be here. Close to Moroccan friends." This year's Eurovision song contest winner, bearded Austrian transvestite Conchita Wurst, is also taking part in the parade.