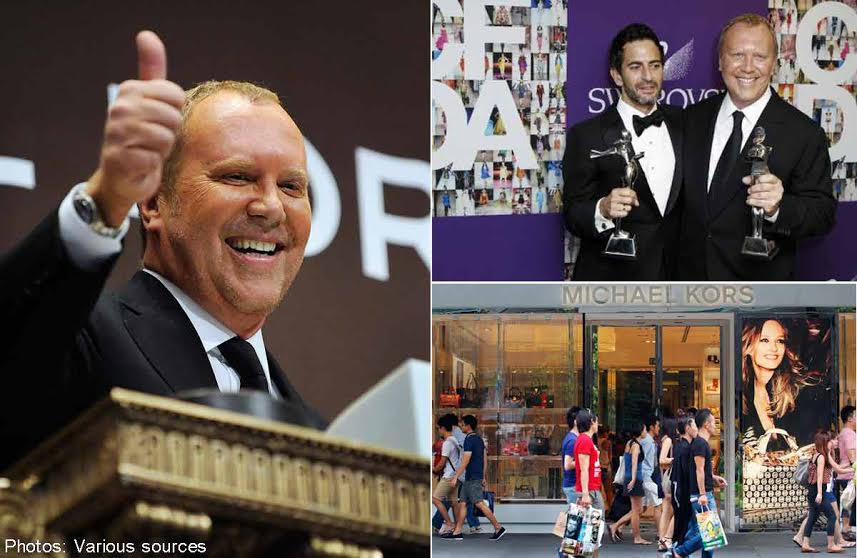 Singapore - Famed designer and businessman Michael Kors, whose eponymous fashion empire has been a favourite label among celebrities, has finally achieved billionaire status, reported Forbes.
According to the American business magazine, the New York-based designer has been verging of becoming a billionaire since 2011. Last week, stocks from his brand galloped nearly 20 per cent in early trading and put Kors "on the top".
Michael Kors Holdings was founded in 1981, just after the 54-year-old CEO dropped out of fashion school, the renowned Fashion Institute of Technology, reported news and entertainment site Business Insider.
The Long-Island native went straight on to launch his successful first womenswear collection which were picked up by high-end departmental stores like Bergdorf Goodman and Saks.
He continued to increase his fan base over the years to include top Hollywood stars such as Demi Moore and Julia Roberts but struggled with finances and had to file for bankruptcy in 1993, said Business Insider. His financial support from his Italian backers had not come through.
This set back did not stop Kors. He reinvented his designs and came up with a more affordable, lower-priced collection, said Business Insider, and even signed on as a fashion director for French luxury label Celine.
He focused on making his clothing accessible by making them available at departmental stores and even developed a sportier line.
Kors never stopped expanding his brand. In the 2000s, he also introduced accessories such as perfume and handbags, and developed his own lifestyle concept boutiques.
The New York-based designer revealed in an interview on television show 20/20 that his strategy was to make his label carry designs that will appeal to women of all sizes and income level.
He and his brand gained further stardom and recognition when Kors joined German supermodel Heidi Klum as one of the judges of a reality show for aspiring designers. Kors participated as judge for 10 seasons of the show, Project Runway.
The First Lady of the United States, Michelle Obama, is seen so frequently in Michael Kors' designs that British tabloid Daily Mail even teased her for having a crush on him.
According to Daily Mail, Michelle Obama was seen in Kors' designs more than five times in two months in 2013. She even donned on a sleeve-less black dress from his label for her official White House photo.
Kors took his company public in 2011 and now, he is part of the billionaire club. According to Forbes, Kors is only the latest in "a wave of new fashion billionaires".
Over the past two years, fashion designers such as Tory Burch, Sara Blakely and Renzo Rosso have all made it into the billionaires club too.
wjeanne@sph.com.sg