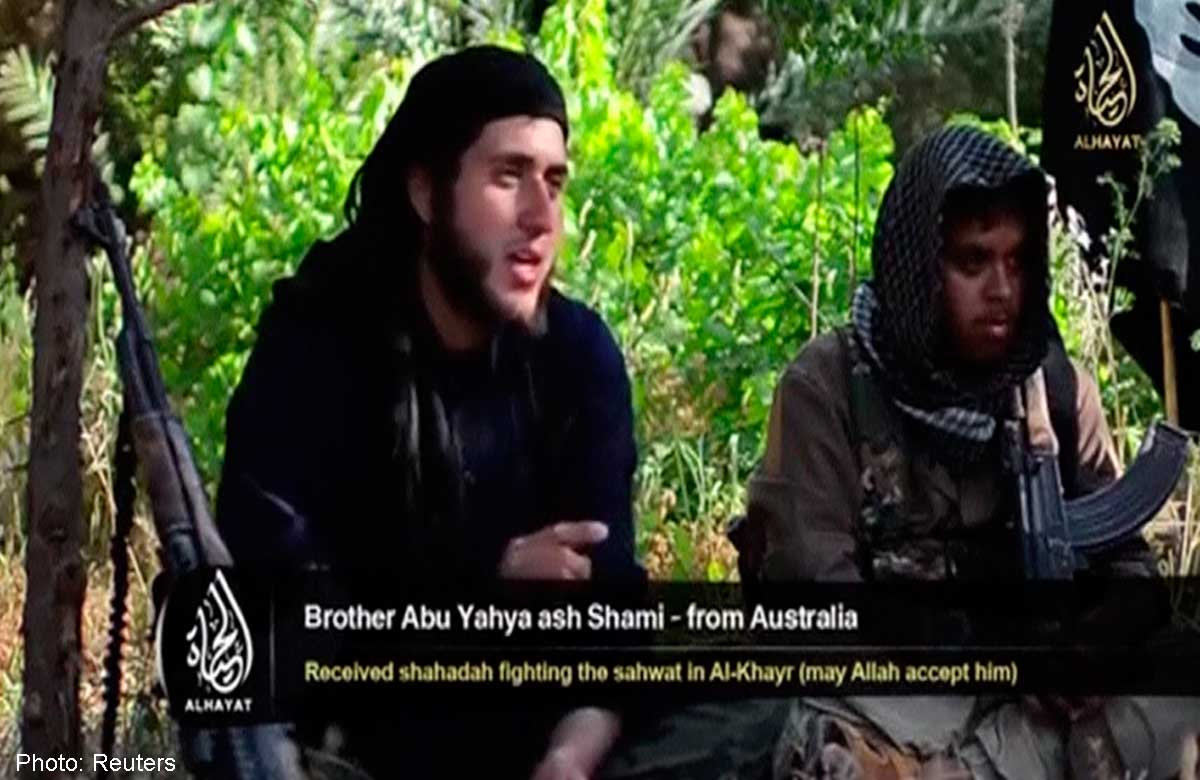 Australian Prime Minister Tony Abbott has called on migrants to join "Team Australia" as he sought to reach out to the nation's growing Muslim community, amid concerns about the risk of home-grown terrorism.
Warning of the potential threat from about 150 Australian Muslims who have gone to join Islamist fighters in the Middle East, Mr Abbott yesterday urged local Islamic leaders to speak out against extremism.
He warned that about two-thirds of Australian Muslims who returned from fighting in Afghanistan went on to become involved in "home-grown terrorist plotting".
"We've got a serious problem of radicalised people going to the Middle East to fight with terrorist groups," Mr Abbott told Sydney's 2GB Radio.
"Some of them will want to come back to Australia and they do pose a risk if they do, because they've been radicalised, militarised and brutalised by the experience."
The world's spotlight has been focused on Australia's Muslim community after local convicted terrorist Khaled Sharrouf proudly posted a photo on Twitter of his seven-year-old son holding a decapitated head in northern Syria.
Sharrouf is now a fighter with the "terrorist army" of Islamic State in Iraq and Syria (ISIS).
US Secretary of State John Kerry said it was one of the most grotesque images the world had ever seen, and Mr Abbott also condemned the photograph.
Mr Abbott said yesterday he was not targeting a particular community but insisted that all migrants need to join the so-called "Team Australia".
He said communities needed to encourage "the moderate mainstream to speak out".
"You don't migrate to this country unless you want to join our team... Overwhelmingly, our country comprised good decent people who want to put Australia and its people first, and it's important that individual communities can't be caricatured on the basis of a militant few."
Earlier this month, Mr Abbott had proposed new anti-terrorism laws and a A$630 million (S$731 million) boost for security agencies, but the measures have angered the Muslim community.
The Counter-Terrorism Foreign Fighters Bill, to be introduced to Parliament next week, targets Australians who go overseas to fight with terrorist organisations.
It bans travel to areas where terrorist activity is present - unless a person has an "innocent" excuse - and boosts powers of the authorities to suspend citizens' passports.
The terrorism threat level was left unchanged at medium - the level it has been since the Sept 11 attacks in 2001.
Islamic groups have denounced the measures and said they are designed to target Muslims and restrict their travel to visit relatives or do aid work in the Middle East.
The Australian National Imams Council said in a statement earlier this month that the proposals "impinge on the rights and freedoms of all Australians and especially those of Muslim faith".
The Lebanese Muslim Association said the laws were "deplorable" and would give the authorities "unprecedented and intrusive powers".
Seeking to allay these concerns, Mr Abbott met Muslim leaders in Sydney yesterday and will meet other Muslim leaders in Melbourne later this week. He also held a press conference with local ethnic community media representatives.
"If you leave Australia to join the Pakistani army because you happen to be a dual citizen, that's certainly not illegal," he said. "But if you leave our country as an Australian citizen, as an Australian resident, as anyone at all to join a terrorist group overseas, to work with a terrorist group overseas, that is illegal."
Muslim community leaders said they were satisfied with the meeting yesterday.
Australia had 476,000 Muslims at the last census in 2011, up from 340,000 - an increase of about 40 per cent - in just five years. Asked about displays of flags by radical groups, Mr Abbott said Australians should be flying only their own national flag.
"I don't know what the legal position is but frankly the only flag that should be flying is the Australian national flag," Mr Abbott said.

This article was first published on August 19, 2014.
Get a copy of The Straits Times or go to straitstimes.com for more stories.