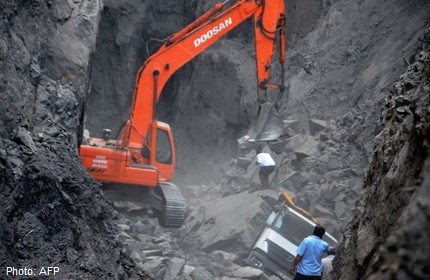 KABUL - A coal mine collapse has killed at least 27 miners in the north of Afghanistan, officials said on Sunday, with rescue efforts underway to save about 12 workers trapped underground.
Emergency teams rushed to the scene after the mine collapsed in a remote area of Samangan province on Saturday, and bodies were being brought out of the accident site.
"We have 27 miners who died while they were working in an underground coal mine in Abkhorak coal mine in Ruyi Du Ab district," Mohammad Sediq Azizi, the Samangan governor's spokesman, told AFP.
"They were working in a coal mine when part of the mine collapsed on them. We are heading to the scene for further investigation," Azizi said, adding that 20 other miners had been injured.
Mosadiqullah Muzafari, Samangan's deputy security chief, said that four rescue workers were badly injured and about 12 miners were still stuck underground.
The US conducted an aerial mining survey of Afghanistan in 2006, building on data from the Soviet occupation of the 1980s, and found evidence of $1 trillion of minerals deposits.
Such potential wealth offers a glimmer of hope to a country ravaged by decades of war and facing further turmoil as 87,000 international troops fighting Islamist insurgents head home by the end of next year.