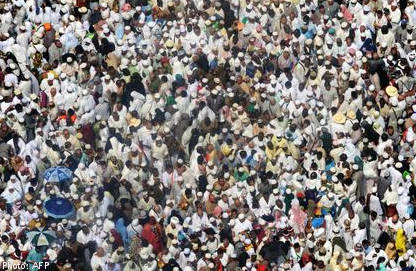 MECCA, Saudi Arabia - Hundreds of thousands of Muslims have poured into the holy city of Mecca for the annual hajj pilgrimage as Saudi Arabia issued a stern warning against politicising the world's largest annual gathering.
People dressed in ihram, a two-piece seamless garment of white cloth, filled the area around the Grand Mosque, Islam's holiest place of worship, which houses the cube-shaped Kaaba and is witnessing massive construction work.
Just two days before the official start of the hajj, around one million faithful performed Friday prayers at the Grand Mosque as the cleric who officiated called for a peaceful and quiet hajj.
Sheikh Saleh bin Mohammed al-Taleb also called on Muslims to unite and end disputes.
Authorities stepped up preparations as police closed most entrances to the Grand Mosque to vehicles, turning traffic in the area around the site into a menacing experience.
The hajj is one of the five pillars of Islam and is mandatory once in a lifetime for all Muslims provided they are physically fit and financially capable.
"I am very excited and extremely happy. I feel I am a very lucky person that I am performing the hajj," said Hamza Suleiman, a 56-year-old civil servant from Malaysia.
"I registered for the hajj 10 years ago and my turn came this year. I really want to come here every year," he told AFP in the Grand Mosque courtyard.
Egyptian businessman Ahmad al-Bahrawi, who is performing the hajj for the sixth time, accompanied by his wife, said "it's an entirely different feeling that cannot be described when I enter the Grand Mosque and look at the Kaaba."
Due to the scare from the MERS coronavirus, which has already killed 51 in Saudi Arabia, and high pollution from vehicles emissions, some pilgrims and security men wore face masks and also covered their heads to protect themselves from the scorching heat.
Saudi Health Minister Abdullah al-Rabaia was quoted in the local media Thursday as saying that no MERS case has been discovered among pilgrims.
An unexpected heavy downpour accompanied by lightning washed the holy sites around Mecca on Wednesday slightly delaying a planned parade by hajj security forces. Local media said seven people were slightly hurt.
Officials said around 1.4 million pilgrims have already arrived from abroad, with expectations of around two million pilgrims this year. That is sharply down from last year's 3.2 million, due to forced cuts as a result of expansion work and the scare from MERS, short for Middle East Respiratory Syndrome.
Road blocks were set up on all roads leading to Mecca and people who did not carry official permits were turned back. This year, security patrols are deployed in remote and deserted roads to block illegals.
As turmoil continues to hit most of the Arab world, Interior Minister Prince Mohamed bin Nayef Wednesday warned Muslim pilgrims against exploiting the hajj for political purposes.
"The kingdom is taking all possibilities seriously especially that Saudi Arabia has recently been the target of a violent terrorist campaign that did not exclude holy sites," the minister said.
That was a reference to Al-Qaeda attacks that rocked the kingdom between 2003 and 2006, prompting a relentless crackdown by authorities, which he oversaw.
"Hajj is not a place for political disputes and sectarian differences," he said.
Although Riyadh issues such a warning at every pilgrimage, this year it was indirectly linked to reports that members of Egypt's Muslim Brotherhood have been urging pilgrims to express their support for the group after Islamist president Mohamed Morsi was ousted in July.
The oil-rich kingdom strongly backed Morsi's ouster, immediately pledging millions in aid to the new government.
The pilgrimage starts on Sunday and ends on October 18.
Monday marks the most important day, when everyone assembles at Mount Arafat, just outside Mecca, for the peak of the hajj.
The kingdom has mobilised 95,000 members of the security forces, in addition to troops supporting the defence ministry, the national guard and intelligence, according to the interior minister.
He also said the king has approved the creation of a permanent 40,000-strong special force to secure the pilgrimage.
Though marred in the past by deadly floods, stampedes and fires, the hajj has become nearly incident-free in recent years because of multi-billion dollar projects to improve security.