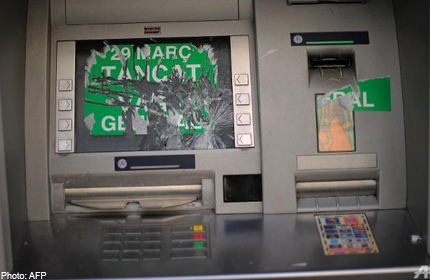 MADRID - Spain's nationalised lender CatalunyaCaixa said on Wednesday it had reached an agreement with unions to cut nearly a third of its workforce under a restructuring demanded by the EU as part of a bailout deal for the country's banks.
Under the agreement, which still must be approved by the bank's management board, a total of 2,153 of its 7,200 staff will be laid off, CatalunyaCaixa said in a statement.
The agreement also cuts salaries paid to the workers who remain.
"This agreement will advance the restructuring of the bank, which will make it more attractive in its sales process," the statement said.
Last year, the eurozone agreed to finance a rescue of Spain's banks, swamped in bad loans since a property bubble imploded in 2008 and plunged the country into a deep recession.
CatalunyaCaixa, formed in 2010 from the fusion of three savings banks in the northeastern Catalonia region, is the second-biggest of the four banks that have been nationalised by the Spanish government to save them from collapse.
The lender received 12 billion euros in public aid after it was nationalised in September 2011, of which 9.0 euros came from the eurozone. It has to shrink its business and restructure as a condition of that aid.