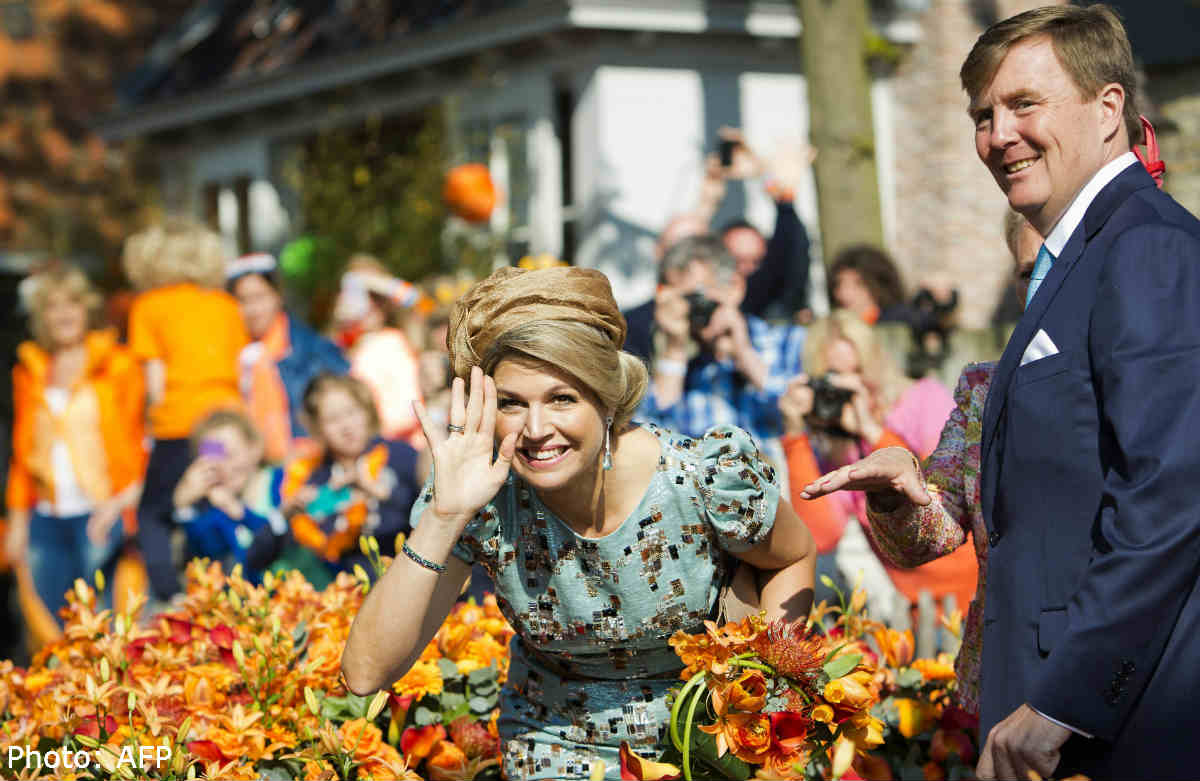 THE HAGUE - Hundreds of thousands of orange-clad Dutch lined the streets on Saturday as the Netherlands celebrated its first-ever "King's Day" in honour of Willem-Alexander, inaugurated one year ago.
The popular king and his Argentinian-born wife, Queen Maxima, were greeted by thousands of enthusiastic fans in the northwestern fishing town of De Rijp, where they took part in traditional Dutch games.
Queen Maxima hit a ball into the mouth of a mock-up whale - symbol of the town's past as a whale processing centre - to thunderous applause before moving on to receive flowers from well-wishers.
From there the royal procession, including the king's mother, now Princess Beatrix, who abdicated last year after 33 years on the throne, travelled south to Amstelveen near Amsterdam.
The royal couple were awaited by their three daughters, crown-princess Amalia, 10 and princesses Alexia, 8 and Ariane, 6, who made a surprise appearance, before unveiling a giant painting in the city centre.
Willem-Alexander, 46, was sworn in on April 30 last year, the first Dutch king in more than 120 years.
Saturday marked the first-ever "King's Day" celebration, a tradition introduced during the reign of a succession of Dutch queens, starting around 1890.
The day came just ahead of the monarch's birthday on Sunday, and saw the country turn orange as the Dutch donned hats, shirts, scarves, sunglasses and even blow-up crowns in the colour of the Royal House.
Some 89,000 people travelled by train to traditional party spot Amsterdam on Saturday morning, the Dutch rail service said, to join some 800,000 other visitors expected in the city.
Dutch media speculated that Willem-Alexander may change celebrations next year or do away with the tradition altogether, but he told crowds in Amstelveen: "Why would you want to change something that's such a success?"
Although the monarchy is popular in the Netherlands, some question the cost of the royal household and republicans are seeking a reduction to the king's tax-free salary of 825,000 euros (about $1.1 million).
A survey published on Saturday by the NOS public broadcaster said 74 per cent of those Dutch questioned said they trusted the king.
Meanwhile, the government's information service on Saturday unveiled the Royal House's first Facebook page.
The introduction of technology is part of a "quiet revolution happening at the palace," Dutch centre-left newspaper De Volkskrant said this week. "Beatrix never sent an email and had a mobile phone for only six years. Following the king's inauguration his whole court is now armed with iPads and iPhones," the paper said.
Even web search giant Google took a bow on Saturday, sporting a royal orange theme for its Dutch search engine, www.google.nl.