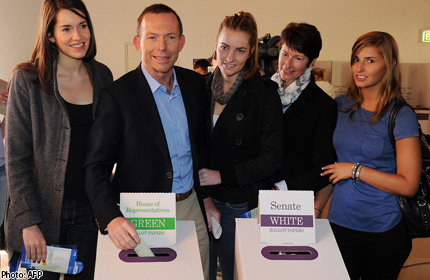 SYDNEY, New South Wales - Australia's Tony Abbott on Saturday promised to provide a "trustworthy, competent" government after winning a resounding victory in national polls which ended six years of Labor government.
"I can inform you that the government of Australia has changed," Abbott told cheering supporters at a Sydney hotel.
"For just the seventh time in 60 years the government of Australia has changed.
"And from today, I declare that Australia is under new management and that Australia is once more open for business."
The seat count has not been finalised but Labor Prime Minister Kevin Rudd conceded defeat earlier Saturday and Abbott said his Liberal/National coalition had clearly won an additional 13 seats which would deliver it a majority government.
"I now look forward to forming a government that is competent, that is trustworthy, and which purposely and steadfastly and methodically sets about delivering on our commitments," he said.
Abbott said his would be a government that "says what it means and means what it says, a government of no surprises and no excuses, a government that understands the limits of power as well as its potential".