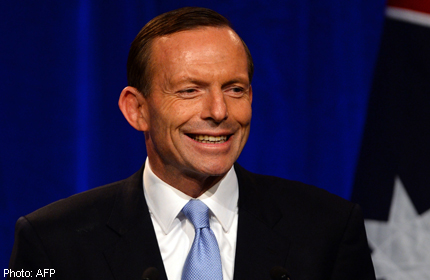 SYDNEY - Australia's new prime minister Tuesday said he will stand by a policy to send boatpeople to Papua New Guinea, but insisted a military-led response will remain his main focus.
Tony Abbott, who decisively beat Kevin Rudd in national elections on Saturday, told commercial television: "Stop the boats we will. The people smugglers are on notice, the game is up, it's all over for them."
PNG Prime Minister Peter O'Neill on Monday urged Abbott to stick by the previous Labor government's policy which involves the poor Pacific nation receiving a boost in foreign aid for taking asylum-seekers.
Abbott said he had since spoken to O'Neill about the continued processing and settlement of asylum-seekers on Manus Island.
"We will make the most of the arrangements which the former government put in place with PNG," he told the Nine Network.
"I think that it is an important element, not the only element, but it's an important element in the range of policies that are necessary to stop the boats."
Labor last week claimed its hardline stance had "broken the back" of the people-smuggling trade, with the PNG plan effectively removing the opportunity of a new life in Australia as an incentive for making the dangerous sea voyage.
In the first month of operations the number of boat arrivals more than halved from 4,236 in July to 1,585 in August.
Before being elected, Abbott's Liberal/National coalition unveiled its own plans to tackle the thorny issue, involving a military-led response to repel boatpeople called Operation Sovereign Borders.
Under the plan, a three-star commander would report directly to the immigration minister, with Abbott saying at the time that the scale of the problem "requires the discipline and focus of a targeted military operation".
He also announced he would instruct the defence force to turn back boats when safe to do so, coupled with a scheme to buy rickety fishing vessels to keep them from trafficking syndicates, dismissed as "crazy" both in Australia and in Indonesia, where most of the boats originate.
Any asylum-seekers that do arrive by boat - including those already in Australia - would be put on temporary three-year visas and a welfare-for-work programme without any appeal, family reunion or permanent residency rights or access to legal help.
"I don't pretend that it's going to be an easy one," said Abbott Tuesday of Operation Sovereign Borders, which he vowed to implement from "day one", once sworn in as the new prime minister next week.
"The government that's just gone certainly created a terrible situation on our borders, but the solution is now at hand."
He added that he had "great confidence" in the abilities of the navy and said: "I know we can work effectively with the Indonesians, we have done it before."
The first people-smuggling boats to arrive on his watch were intercepted on Monday, one of them carrying two foreign journalists reportedly working for the New York Times Magazine.