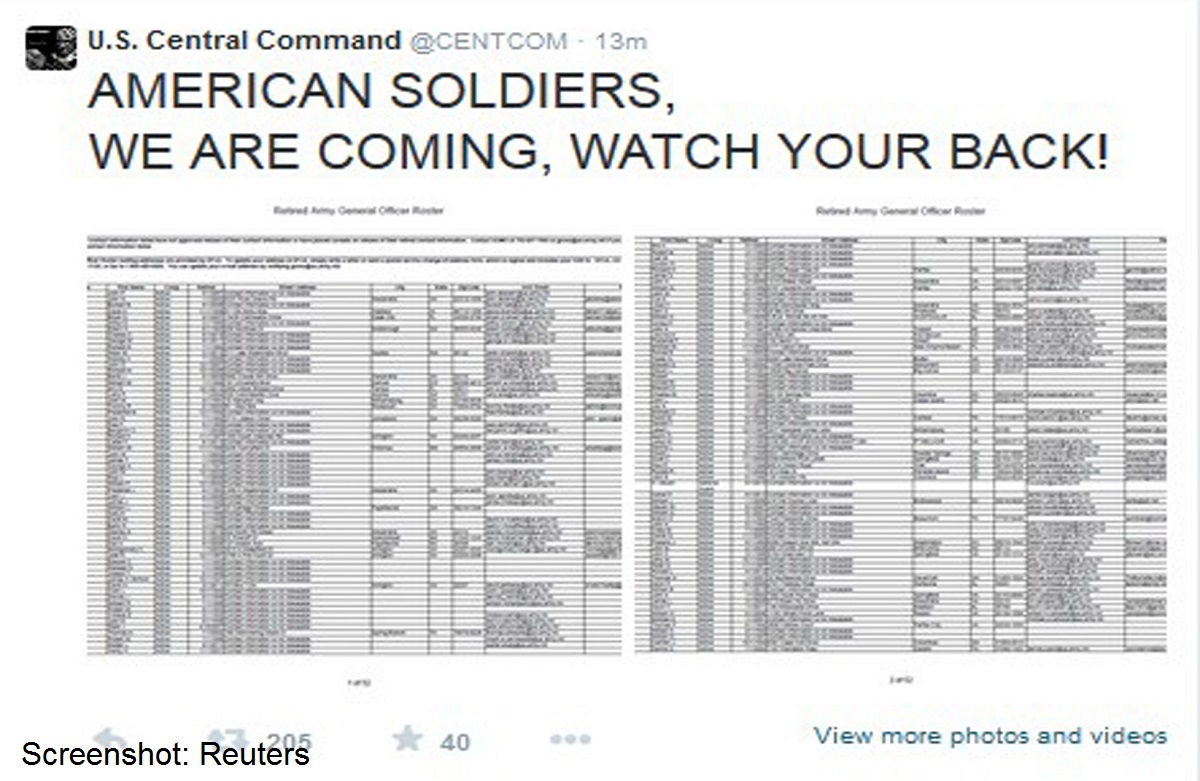 WASHINGTON - The United States Central Command (Centcom) said on Monday that no classified information had been posted online, while the Federal Bureau of Investigation (FBI) would investigate after a group declaring sympathy for Islamic State in Iraq and Syria (ISIS) militants hacked its social media accounts.
"Our initial assessment is that no classified information was posted and that none of the information posted came from Centcom's server or social media sites," said a statement from Centcom, which oversees the US-led air war against ISIS.
The command's Twitter account had been briefly taken over by a group pledging support to ISIS earlier on Monday, with a hooded fighter and the words "CyberCaliphate" and "I love you ISIS" replacing the usual logo. Its YouTube account was also hacked.
However, Central Command played down the seriousness of the hack, saying the incident was being regarded as "cybervandalism" that had "no operational impact". "These sites reside on commercial, non-Defence Department servers and both sites have been temporarily taken offline while we look into the incident further," the statement said. "Centcom's operational military networks were not compromised and there was no operational impact to US Central Command. We are viewing this purely as a case of cybervandalism."
The FBI said on Monday it was investigating the hacking of the Twitter and YouTube accounts of Centcom.
It said in a statement it was working with the Defence Department "in order to determine the nature and scope of this incident".
Centcom said its Twitter and YouTube sites were compromised for about 30 minutes but that "our initial assessment" is that no classified information was posted by the hackers. "Additionally, we are notifying appropriate DoD (Department of Defence) and law enforcement authorities about the potential release of personally identifiable information and will take appropriate steps to ensure any individuals potentially affected are notified as quickly as possible," the command said in a statement.
The hacked Twitter feed posted what appeared to be an office phone directory of officers that was slightly out of date.
The Pentagon, which devotes a great deal of effort to its social media accounts, said the incident amounted to mere digital "vandalism".
"Centcom didn't get hacked. Twitter got hacked," Colonel Steven Warren told reporters.
"It's important to keep this whole thing in perspective. This is little more than a cyber prank. It's an annoyance," he said. "It in no way compromises our operations."
Before the Twitter feed was suspended, the hackers wrote on the seized account that the self-styled CyberCaliphate "is already here, we are in your PCs, in each military base".
Another post said: "American soldiers, we are coming, watch your back."
Central Command, based in Tampa, Florida, oversees the US-led air war against the group in Iraq and Syria, as well as other American operations in the Middle East and Horn of Africa.
The White House said there was no sign that sensitive data had been exposed.
"It's a pretty significant difference between what is a large data breach and the hacking of a Twitter account," White House spokesman Josh Earnest told reporters. "We're examining and investigating the extent of this incident."
The hacked Twitter feed posted various documents, but officials said much of the information was openly available online.
The hackers appeared to have used screen shots on defence-related topics from other websites, giving the impression that they had stolen secret documents, officials said.
Some of the documents were labelled "FOU", or for office use only, which refers to Defence Department documents that are not top secret or classified but usually treated as confidential.
Some PowerPoint slides related to North Korea and China were also posted, but there was no sign of classified information there.
One image showing North Korea's nuclear facilities had appeared previously on the website of the Federation of American Scientists, a Washington-based non-profit organisation dedicated to preventing nuclear war.
A similar digital disruption of social media accounts from local media outlets in the United States took place last week, The Washington Post reported.
Similar black-and-white images replaced the banners for the Albuquerque Journal in New Mexico and the WBOC television station in Maryland, it said.
US commanders and senior officials have previously said the IS group has shown a great acumen for propaganda and for promoting itself to potential jihadist recruits.
The US government has been preoccupied with another, more serious cyber attack on the Hollywood studio Sony Pictures, which suffered a massive data breach in late November.
Hackers stole and posted online information from Sony employees, unreleased films and a trove of emails between top company executives - some of them with embarrassing comments.
A group calling itself Guardians of Peace claimed credit for the attack and issued threats against Sony over the planned release of the comedy film The Interview, which depicts a fictional CIA plot to kill North Korea's leader.
After an investigation, the FBI blamed North Korea for the attack and Washington has imposed fresh sanctions on Pyongyang over the intrusion.