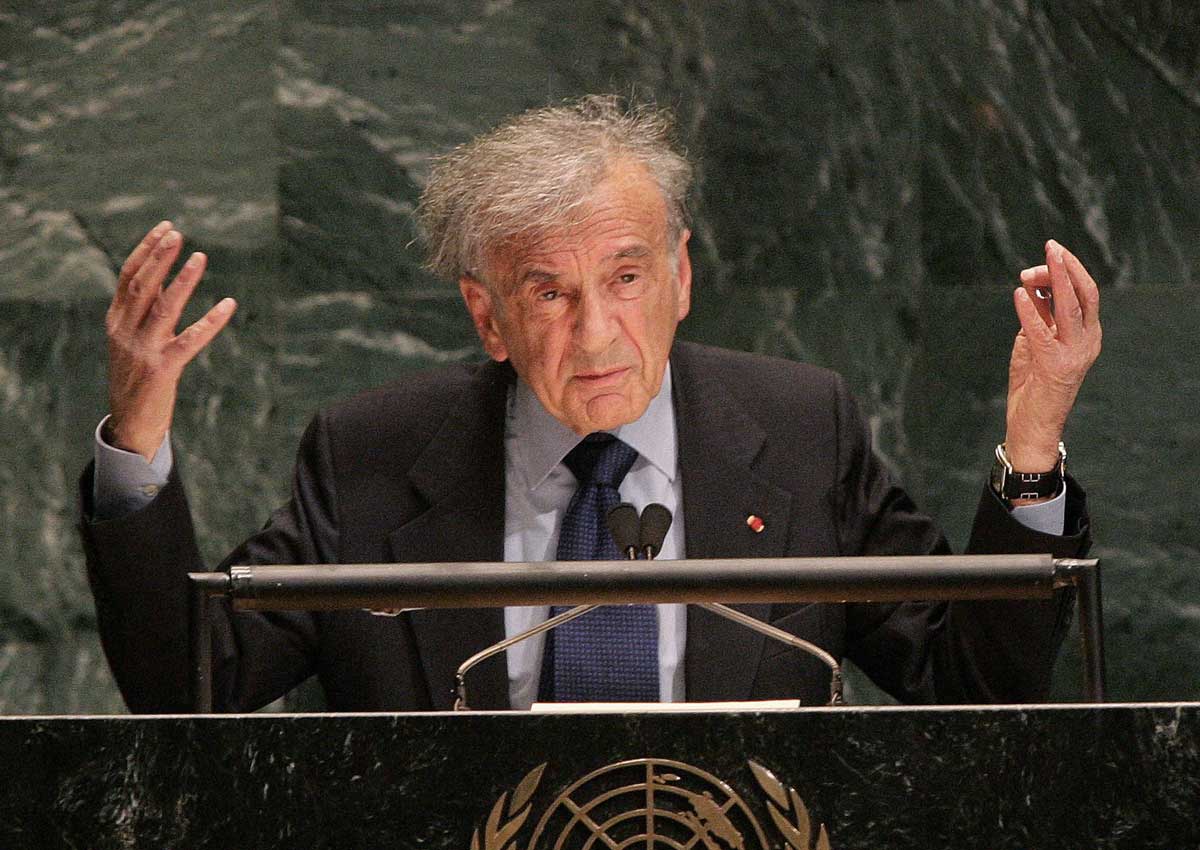 JERUSALEM - Elie Wiesel, the Holocaust survivor, writer and Nobel peace laureate who worked to keep alive the memory of Jews slaughtered during World War II, has died aged 87, Israel's Yad Vashem Holocaust centre said Saturday.
The man once known as "the world's leading spokesman on the Holocaust" died at his home in Manhattan, the New York Times reported.
Wiesel, a Romanian-born US citizen, was perhaps best known for his memoir "Night" detailing his experiences in the Auschwitz concentration camp.
He won the Nobel peace prize in 1986, when he was described as having "made it his life's work to bear witness to the genocide committed by the Nazis during World War II".
A spokesman for the Yad Vashem Holocaust centre, Simmy Allen, confirmed Wiesel's death to AFP, saying late Saturday that he had passed away several hours ago.
Israeli Prime Minister Benjamin Netanyahu, who reportedly tried to convince Wiesel to stand for president in 2014, called him a "an exemplar of humanity".
"Elie, a master of words, expressed in his unique personality and fascinating books the victory of human spirit over cruelty and evil," the premier said in a statement.
"In the darkness of the Holocaust, in which six million of our brothers and sisters perished, Elie Wiesel was a beacon of light and an exemplar of humanity that believes in man's good." Born Eliezer Wiesel on September 30, 1928, the Nobel prize winner grew up in a small town in Romania.
His parents raised him and his three sisters in a Jewish community, until they were all detained during the Holocaust when he was a teenager.
His mother and younger sister were killed in the gas chamber at Auschwitz, according to his biography. His father later died of dysentery and starvation at Buchenwald, where Wiesel was freed by US soldiers at the age of 17.
He was reunited with his two older sisters in France, and eventually studied at the Sorbonne in Paris.
Wiesel travelled back to Auschwitz in 2006 with US talk show host Oprah Winfrey. He also accompanied US President Barack Obama and German Chancellor Angela Merkel on a tour of the Buchenwald camp.
"After we walked together among the barbed wire and guard towers of Buchenwald... Elie spoke words I've never forgotten - 'Memory has become a sacred duty of all people of goodwill,'" Obama said Saturday.
"Elie was not just the world's most prominent Holocaust survivor, he was a living memorial.
"His life, and the power of his example, urges us to be better." Wiesel's internationally acclaimed "Night" was originally published in 1956 and has been translated into more than 30 different languages. It was later expanded into a trilogy with "Dawn" and "Day".
Accepting the Nobel Peace Prize, he said the award "both frightens and pleases me.
"It frightens me because I wonder: do I have the right to represent the multitudes who have perished? Do I have the right to accept this great honour on their behalf?
"I do not. That would be presumptuous. No one may speak for the dead, no one may interpret their mutilated dreams and visions." While Wiesel's focus was the Holocaust and the plight of the Jewish people, he was also a rights activist and a professor of Judaic studies and the humanities.
Michael Zank, director of Boston University's Elie Wiesel Center for Jewish Studies where Wiesel was a faculty member, said the staff are "heartbroken at his passing".
Soon after he won the Nobel prize, Wiesel and his wife Marion founded The Elie Wiesel Foundation for Humanity with a mission to "combat indifference, intolerance and injustice through international dialogue and youth-focused programs".
French President Francois Hollande in a statement said his country "salutes the memory of a great humanist" and a "tireless advocate of peace".
Israeli President Reuven Rivlin called Wiesel "a hero of the Jewish people, and a giant of all humanity".