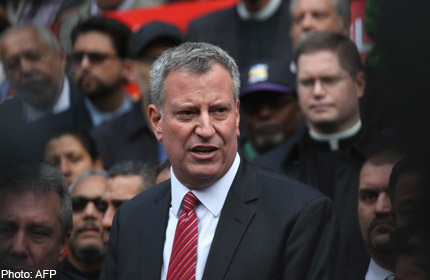 A week ago, New Yorkers elected their first Democrat mayor in two decades and, in a city where even Republican leaders sound like liberals, Mr Bill de Blasio certainly wears his bleeding heart on his sleeve.
Indeed, the 52-year-old mayor-elect scored a landslide victory by running on a platform that promised to tax the rich to pay for universal pre-kindergarten education, building 200,000 units of low-income housing and creating better-paying jobs for New Yorkers.
That could prove to be a tall order, however. On New Year's Day, when he is sworn in as mayor of the largest city in the United States, he will face a deficit of as much as US$2 billion (S$2.5 billion) for the next fiscal year - left behind by Mayor Michael Bloomberg, a Republican whose hard line on gun control and attempts to ban supersize soda drinks appalled conservatives.
But a US Census Bureau report released in September confirmed what Mr de Blasio blames on his three-term predecessor and gave credence to his description of New York as a "tale of two cities".
The report found its poverty rate increasing and the rich-poor gap wider than in any other major US city. Fully 46 per cent of New Yorkers now live in or near poverty, up 8 percentage points from levels in 2005.
Mr de Blasio has pledged that, as mayor, he will start making changes by helping fast-food and other low-wage workers to unionise, so they will have a better chance at higher pay, The New York Daily News reported.
"This is what I made my whole campaign about - fighting inequality and fighting economic injustice," he had said in interviews and campaign appearances.
Mr de Blasio does understand their pain. For eight years, he was a councilman for the rough-and-tumble, blue-collar borough of Brooklyn and, since 2010, he has been New York City Public Advocate - the office serves as an ombudsman between the electorate and the city government.
He is a born, but not bred, New Yorker. His mother Maria Angela de Blasio, the daughter of Italian immigrants, gave birth to him in a hospital right across the street from Gracie Mansion, the mayor's residence.
Originally, he was named Warren Wilhelm, after his father, a Yale- and Harvard-educated economist of German ancestry and a World War II veteran.
Then, for reasons unknown, the New York Times reports, his family began calling him Bill.
They moved to Massachusetts, where little Bill became - horror of horrors to any
hard-core New Yorker - a rabid fan of the Boston Red Sox baseball team. He remains one today.
When he was eight, his parents divorced after his father began drinking heavily. Ten years later, his father shot and killed himself with a rifle.
In the 1980s, he changed his name to Bill de Blasio, saying that his mother's Italian family had been the "single most important influence" in his life. By then, his future had already begun taking shape - he became an activist, distributing food and medicine in the middle of a war in Nicaragua, with an ardently leftist view of the world.
In 1989, he dipped a toe in politics working as a volunteer for Mr David Dinkins, New York's last Democrat mayor, who served in the 1990s. Before returning to New York to begin his own political career, Mr de Blasio was campaign manager for Mrs Hillary Clinton's 2000 Senate race.
It was while working in Mr Dinkins' administration that he met Ms Chirlane McCray, an African-American five years his senior.
Even though she had written an Essence magazine cover story in 1979 titled I Am A Lesbian, declaring her preference for women at an early age before getting "locked into a traditional marriage", they married in 1994.
That nugget of biographical information did not come out until late last year and, in a city like New York, Mr de Blasio was able to use it to his advantage in his race for mayor. In fact, he put his entire bi-racial family - including daughter Chiara, 19, and son Dante, 16 - out front during the campaign.
Dante - retro Afro hairdo and all - appeared in a TV campaign advertisement urging New Yorkers to vote for his "Dad" that turned the tide during a primary election race in which Mr de Blasio was at first running in fourth place.
Last Tuesday, Mr de Blasio trounced Republican Joseph Lhota, 59, by a margin of almost 50 points - the largest secured by a non-incumbent in the Big Apple's fabled history and the widest seen since Mayor Edward Koch was elected to a third term in 1985 by 68 points.
Despite Mr de Blasio's attacks on the outgoing mayor's record, Mr Bloomberg pledged support.
"We want to make sure... he's got everything that he needs to get going," Mr Bloomberg told a radio station after the election. "People smile and think I'm joking but... I hope his administration is even better than ours."
zach@sph.com.sg

Get a copy of The Straits Times or go to straitstimes.com for more stories.