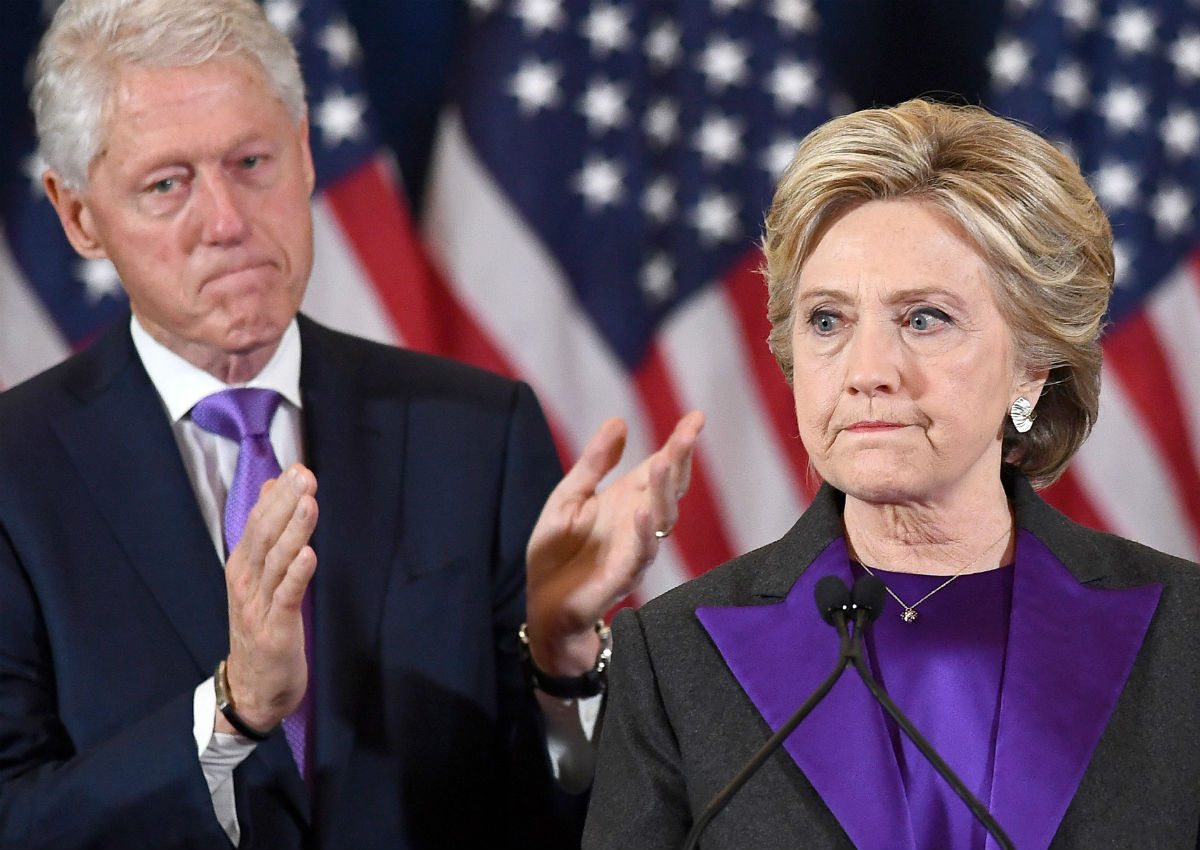 Barack Obama and his vanquished would-be successor Hillary Clinton sought on Wednesday to heal the wounds opened by the most acrimonious US election in memory, as they assured President-elect Donald Trump that Americans were "rooting" for his success.
Despite the bitter rhetoric, insults and political jabs that tarnished the long campaign, the top Democrats made clear they now sought a smooth and orderly transition in the world's largest economy and military power.
Mrs Clinton said she had congratulated her Republican rival overnight after his upset victory, and offered to work with the political novice and former reality TV star "on behalf of our country."
"I hope that he will be a successful president for all Americans," she told supporters in her first public remarks since her chances of becoming the country's first woman president were dashed.
"We owe him an open mind and the chance to lead."
While Mr Trump pledged to unite the nation as a "president for all Americans," the entire global political order, which hinges on Washington's leadership, was cast into doubt by the election of a man who has questioned core US alliances.
President Obama took to the Rose Garden to assure the world that the White House would craft a successful transition for the real estate mogul, "because we are now all rooting for his success in uniting and leading the country."
"We are Americans first. We're patriots first. We all want what's best for this country," Mr Obama said, as White House staff were seen wiping away tears.Around the world, as Mr Trump's victory settled in as cold reality, observers greeted the political earthquake with warnings that America had handed power to "an unstable bigot, sexual predator and compulsive liar," in the words of Britain's The Guardian.
But the leaders of America's closest hemispheric partners, Canada and Mexico, quickly made clear their willingness to work with the new president, offering a message of continuity and stability with their giant neighbour.
Mexico's President Enrique Pena Nieto reached out to the president-elect, agreeing to a fresh meeting.And US investors appeared to be shaking off the shock that initially sent global markets plunging.
The Republican Party leadership, too, embraced their newfound champion, with House Speaker Paul Ryan, who had distanced himself from Mr Trump in the final month of the campaign, pledging to "hit the ground running" and work with him on conservative legislation.But Mr Ryan also called for healing, saying the bitterly contested race must now be followed by a period "of redemption, not a time of recrimination."
Likewise, Mr Trump called for national reconciliation after Mrs Clinton conceded defeat in a result that virtually no poll had dreamed of predicting.
"Now it is time for America to bind the wounds of division," Mr Trump told a crowd of jubilant supporters early Wednesday in New York, pledging to work with Democrats in office.During a bitter two-year campaign that tugged at America's democratic fabric, the 70-year-old tycoon pledged to deport illegal immigrants, ban Muslims from the country and tear up free trade deals.
Mr Trump's campaign message was embraced by a large section of America's white majority, grown increasingly disgruntled by the scope of social and economic change under Mr Obama, their first black president.
There was no disguising the concern of Washington's partners that Mr Trump's victory might destroy the Western alliance they still regard as a touchstone for stability and the rule of law.
German Chancellor Angela Merkel appeared to take on the mantle of champion of liberal values and "leader of the free world", an epithet usually reserved for American presidents.She warned that "close co-operation" between the two countries must be based on shared democratic values, and reminded Mr Trump of the global responsibility he carries."On the basis of these values, I offer close co-operation to the future president of the United States of America, Donald Trump."
And Nato head Jens Stoltenberg warned Mr Trump, who spoke during the campaign of making US allies bear a bigger share of the Western security burden, that "US leadership is more important than ever."
Some of the most enthusiastic support for Mr Trump came from far-right and nationalist politicians in Europe such as French opposition figure Marine Le Pen, Matteo Salvini of Italy's Northern League and British euroskeptic Nigel Farage.Russia's autocratic leader Vladimir Putin said he wanted to rebuild "full-fledged relations" with the United States, as he warmly congratulated the president-elect.
The results prompted a global market sell-off, with stocks plunging across Asia and Europe.But the markets recovered by the close in New York, with the Dow ending the day up 1.4 per cent.