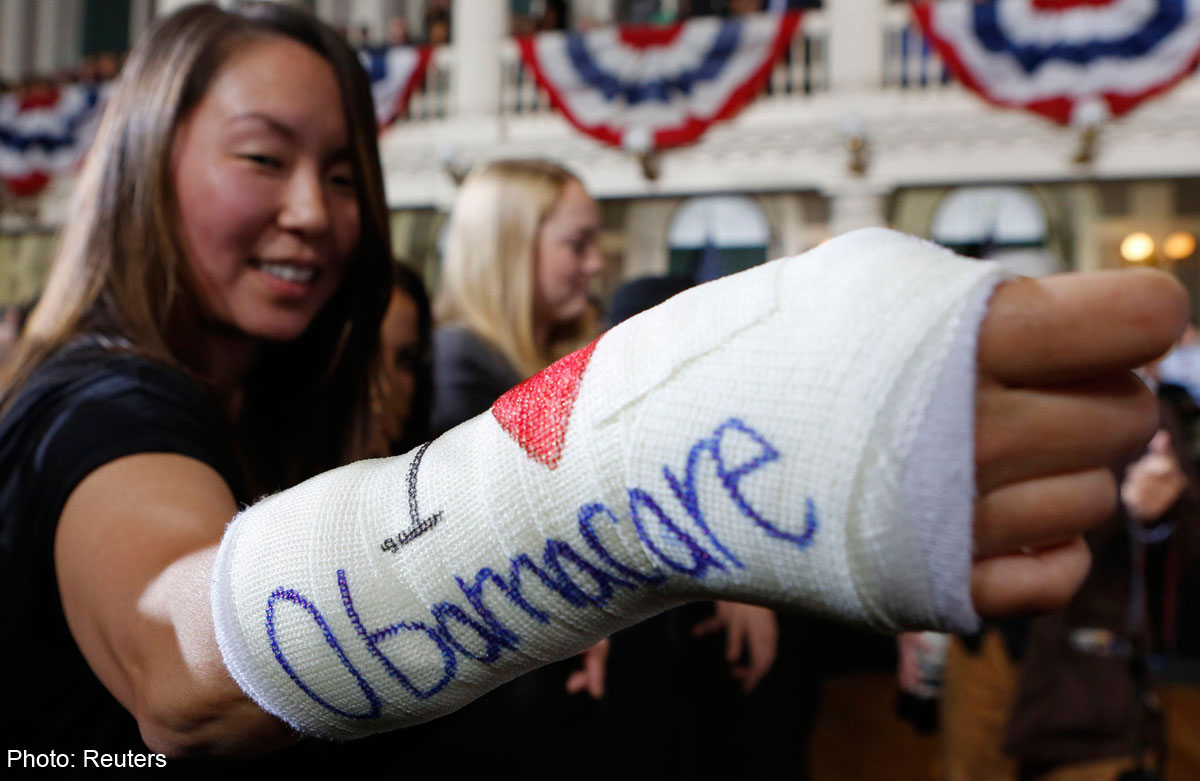 WASHINGTON - As online enrolment accelerates for medical insurance under President Barack Obama's health law, the government is relying on manual back-up systems to correct computer errors that could leave some enrollees uninsured, the top US health official said on Wednesday.
Health and Human Services Secretary Kathleen Sebelius described the manual procedure as a temporary measure for software applications that have not yet been built, tested and incorporated into the massive system behind the HealthCare.gov website.
Still missing are an automated system for verifying that consumers who sign up for insurance through HealthCare.gov are actually enrolled with a carrier, and a separate computer function for paying billions of dollars in federal subsidies to insurers on behalf of lower-income policyholders. "There's a manual workaround for virtually everything that isn't fully automated yet," Sebelius said in hearing testimony before the House Energy and Commerce health subcommittee. "It just will be manual until the automation is fully complete and we've tested it and make sure it works. But in the meantime, the payment system will absolutely go forward."
The admission appeared to weigh on Sebelius' attempts to tout improvements in the website that was established under the 2010 Patient Protection and Affordable Care Act, commonly called Obamacare. The site provides access to new federal health insurance marketplaces in 36 states.
New data on Wednesday showed about 365,000 people signing up for private insurance nationwide in October and November, and 5 million visitors to the once-hobbled federal website during the first week of December.
Republicans questioned the veracity of the enrollment numbers. Representative John Shimkus of Illinois took issue because Sebelius could not say whether those who signed up through the marketplaces had secured their enrollment by paying their first month's premiums. "When Amazon.com records a book sold, they record a book sold based on someone who has paid for it, not what is in their shopping cart, not what is on their wish list," Shimkus said."So our concern is this 365,000 figure is fraudulent because it is not those who have purchased plans yet."
BEHIND-THE-SCENES SCRAMBLE
Relying on a manual process to verify enrollment could lead to a new political backlash next year for Obama, who has already been criticised over several million people who received cancellation notices last month for existing health plans that do not meet Obamacare's consumer protection and benefit standards. "Based on current trends, it's likely that more individuals will have lost coverage on Jan. 1 than will have gained it under the law," said Representative Joe Pitts of Pennsylvania, the House subcommittee's Republican chairman.
Pitts' claim quickly came under attack from Democratic Representative Henry Waxman of California who called it "just not true" and accused Republicans of trying to score political points rather than being concerned about the uninsured.
But the administration and insurers are already undertaking an intensive effort to make sure people who sign up for coverage do not find themselves uninsured in January when coverage takes effect. "In the early days, there were a serious number of errors,"Sebelius said. "And we are in the process of actually hand-matching individuals with insurance companies."
The problem is that the federal system creates errors in computerized enrollment files that it sends to insurers whenever people sign up for coverage. Some files never arrive in the insurance company systems.
Insurers say the danger is that error-ridden files will cause the system to miss enrollees, who could wind up going to a doctor thinking they have coverage when they do not. And the problem could become more pronounced this month if enrolment numbers skyrocket into the millions, as some expect to happen ahead of a Dec. 23 deadline for Jan. 1 coverage.
The administration has already acknowledged that 1-in-4 insurance applications to HealthCare.gov were transmitted inaccurately to insurance companies in October and November, a period when about 137,000 people signed up for insurance in the federal marketplace, according to government data released on Wednesday.