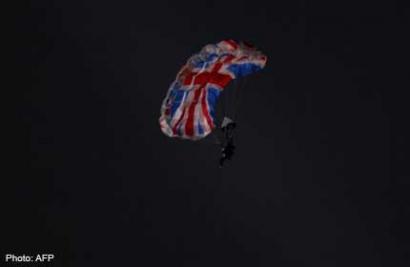 LONDON - The stuntman who amazed the world when he parachuted into the London 2012 Olympics opening ceremony dressed as James Bond has died while wing-diving in Switzerland, police and media reports said.
Mark Sutton, 42, died on Wednesday after crashing into a mountain ridge near Martigny, close to the French border, during a three-day wing-diving event, The Sun newspaper reported.
The former army officer played the role of Daniel Craig's Bond in the most memorable sequence of the ceremony, accompanying another stuntman dressed as Queen Elizabeth II.
Swiss police confirmed a 42-year-old British man flying in a wingsuit was killed after hitting a ridge near Trient in the rugged Valais region.
They said the man, who they did not name, jumped from a helicopter at an altitude of some 3,300 metres (10,000 feet) along with another man.
Gary Connery, who played the queen in the Olympic stunt last year, told The Sun he had lost a good friend who was "a great character - smart, articulate and funny".
Wingsuiters wear special jumpsuits that add surface area to the human body, enabling them to glide like a bird, before opening a parachute like a regular skydiver.
Sutton and his co-jumper had flown close to the mountainside, and planned to land near the village of Le Peuty.
Police said they were among two dozen highly-experienced practitioners of the sport who had gathered in the resort of Chamonix in neighbouring France.
The group had been invited to the area by an extreme sports company which produces films of its events for broadcast on the Internet.