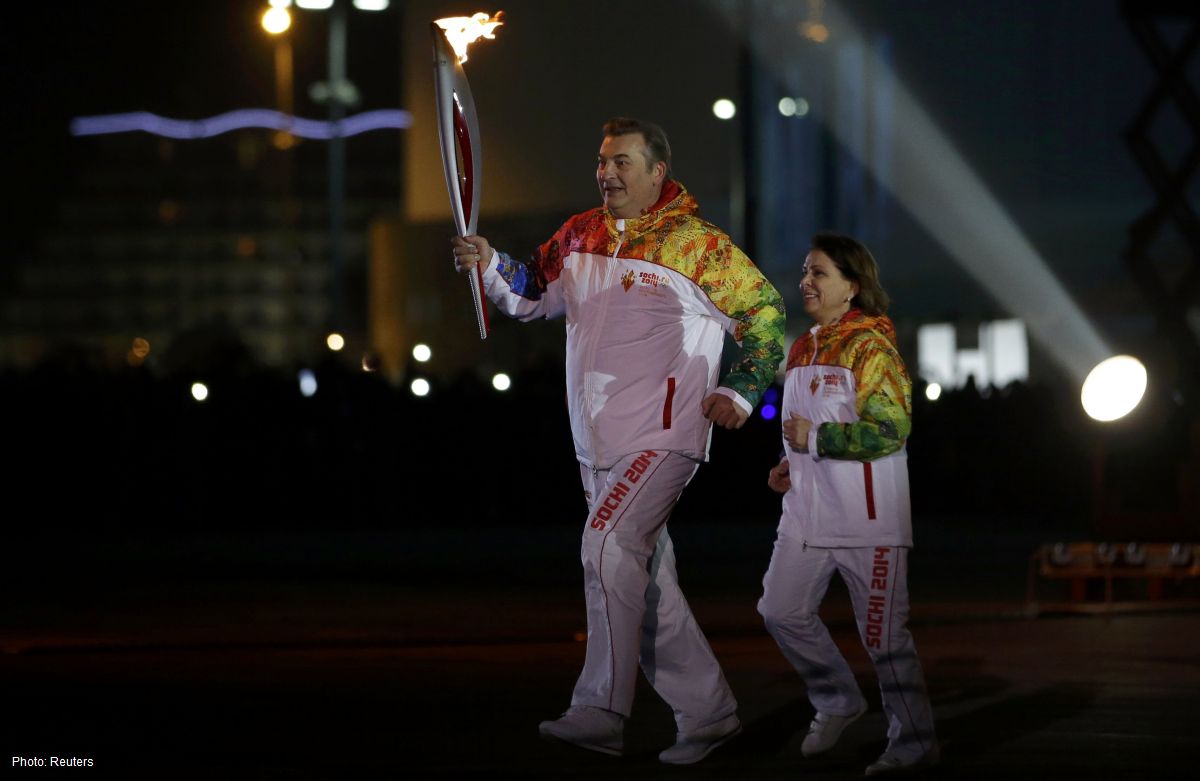 SOCHI, Russia - Picking triple Olympic champion Irina Rodnina to light the Olympic flame at the Sochi Winter Games was not a political choice despite a controversial photo she had tweeted, Games chief Dmitry Chernyshenko said on Saturday.
A national hero in Russia and member of parliament loyal to President Vladimir Putin, former figure skater Rodnina caused an outcry in the United States last September by re-tweeting a photoshopped picture showing President Barack Obama chewing and a hand waving a banana in front of him.
"Irina Rodnina is from the club of three-times gold medallists and one of the most respected in the world," Chernyshenko told reporters. "The Olympic Games are not about politics," he said.
The US ambassador to Moscow, Michael McFaul, accused Rodnina at the time of "outrageous behaviour, which only brings shame to her parliament and country".
Relations between the United States and Russia have been frosty, especially since Putin's campaign to get re-elected in 2012, during which he criticised Washington.
Rodnina responded in September by saying she had been sent the picture by friends in the United States and added: "Freedom of speech is freedom of speech, and you should answer for your own hang-ups."
On Saturday she thanked fans for the support, making no mention of the controversy.
"I received numerous wishes, greetings and kind words. Have not slept for a third straight night. Thank you," she wrote on Twitter.
International Olympic Committee spokesman Mark Adams said the choice of Rodnina, who lit the flame along with former ice skating champion Vladislav Tretyak at Russia's first Winter Games, was not one taken by his organisation.
"It is not the IOC that chooses them (torchbearers)," he said. "She was chosen for what she has done in sport. It was a decision that Sochi took."
Konstantin Ernst, the creative director of Friday's opening ceremony, said the choice had been made on sporting grounds alone and that he had not seen the tweet Rodnina sent.
Traditionally the last torchbearer, a closely guarded secret up until the lighting of the flame, at any Olympic Games is usually a high-profile athlete or personality whose presence should add international prestige to the host city.
Previous big name athletes to light the Olympic cauldron include boxer Muhammad Ali, runner Paavo Nurmi and ice hockey player Wayne Gretzky.