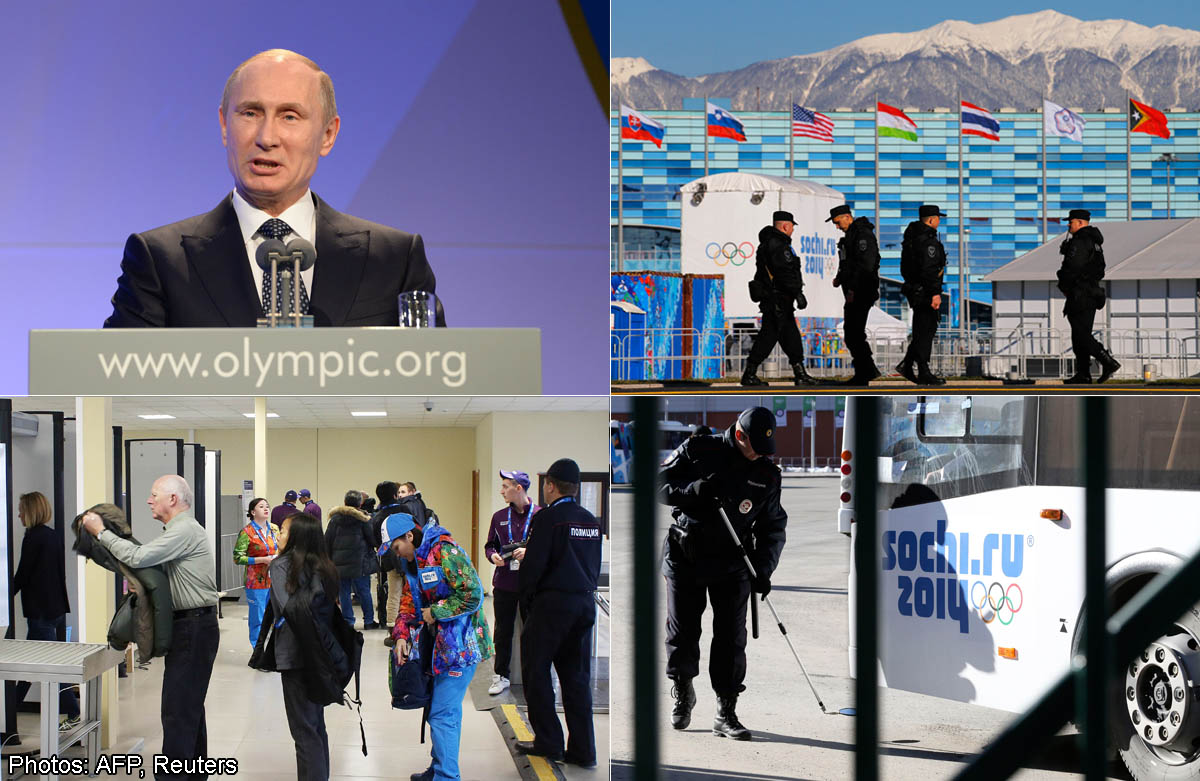 SOCHI - Russia said on Thursday its Sochi Olympics were as safe as any place in the West from militant attacks after Washington warned airports and some airlines that toothpaste tubes could be used to smuggle bomb-making materials onto a Russia-bound plane.
Russian forces are on high alert over threats by Islamist militant groups based in the nearby north Caucasus to attack the Winter games, which begin today.
Twin suicide bombings killed at least 34 people in December in Volgograd, some 400 miles (700 km) northeast of Sochi.
Deputy Prime Minister Dmitry Kozak, speaking on the eve of the opening ceremony, told journalists in Sochi that Russian security services were working with colleagues from Europe and North America.
"There is no reason to believe that the level of danger in Sochi is greater than at any other point on the planet, be it Boston, London, New York or Washington.
"We can guarantee the safety of people as well as any other government hosting any mass event," he said, speaking through a translator.
President Vladimir Putin, who launched a war to crush a rebellion in nearby Chechnya in 1999, has staked his reputation on the Games, which at around $50 billion will be the most expensive in Olympic history.
Islamist guerrillas seeking an independent Islamic state in Chechnya and neighbouring regions of southern Russia, have aimed threats at the games, which they argue take place on land seized from Caucasus tribes in the 19th century.
Despite a "ring of steel" around venues and some 37,000 security personnel on alert, Russian forces fear a woman suspected of planning a suicide bombing may have slipped through.
However, security officials believe the risk of an attack is far greater elsewhere in Russia than in Sochi or the Caucasus mountain cluster nearby.
President Barack Obama has said he believed Sochi was safe, but behind the scenes there has been tension between Russian and US officials, including over concerns that the host nation might react with excessive force in the case of an attack and endanger civilian lives.
A senior US security official said on Wednesday Washington had issued a warning to airports and some airlines flying to Russia for the Olympics to watch for toothpaste tubes that could hold ingredients to make a bomb on a plane.
The official did not say why such a specific warning was being issued now. Airlines and airports have been aware for several years of the dangers of bombs being concocted on aircraft from liquids smuggled aboard and have strictly limited the carriage of all liquids and pastes by passengers.
LAW ON HOMOSEXUALITY
Putin, accused in the West of abusing the rights of minorities and of critics, faces other hazards at the games.
His legacy could be tarnished by rows over anti-gay propaganda laws, which athletes, rights groups and political leaders have condemned, allegations of corruption, cost overruns and concerns over security.
Organisers have also been scrambling to deal with teething problems, including complaints about accommodation and an outcry over the fate of stray dogs being rounded up in Sochi.
Russia's contentious "gay propaganda" law was again in the spotlight on Thursday, when United Nations Secretary-General Ban Ki-moon condemned discrimination and attacks on people based on their sexual orientation.
"Hatred of any kind must have no place in the 21st century,"he said, addressing an International Olympic Committee (IOC) session in Sochi.
Russia, hosting a Winter Games for the first time, has come under mounting criticism since the government passed legislation last year which critics say curtails rights of homosexuals and discriminates against them.
"We must oppose the arrests, imprisonments and discriminatory restrictions they face," Ban said.
Putin has defended the law as protecting minors and said homosexuals will not face discriminated at the Sochi Olympics.
SPORTING ACTION
The president will hope the world's media now turns their lenses on sporting exploits on the snow and ice, and there was early qualification action in slopestyle, where medals are up for grabs for the first time.
In Alpine skiing, US veteran Bode Miller, at his fifth Winter Games aged 36, set the fastest time in training.
"My confidence is never really my issue," he grinned afterwards. "Unfortunately they don't give any medals for training because if they did I'd be psyched today.
"But it certainly doesn't hurt. To come out here and ski hard, ski well, first run is great," added the five times Olympic medallist, who aims to become the oldest man to win an Alpine gold.
The women's downhill training was cut short due to concerns over a jump close to the finish, a day after Shaun White's decision to pull out of the slopestyle event for safety reasons.
"I felt like, 'You're welcome, I'll be your test dummy'", said 25-year-old American Laurenne Ross, one of only three of the 56 racers to descend the 2,713 metre long course. "I was definitely intimidated."