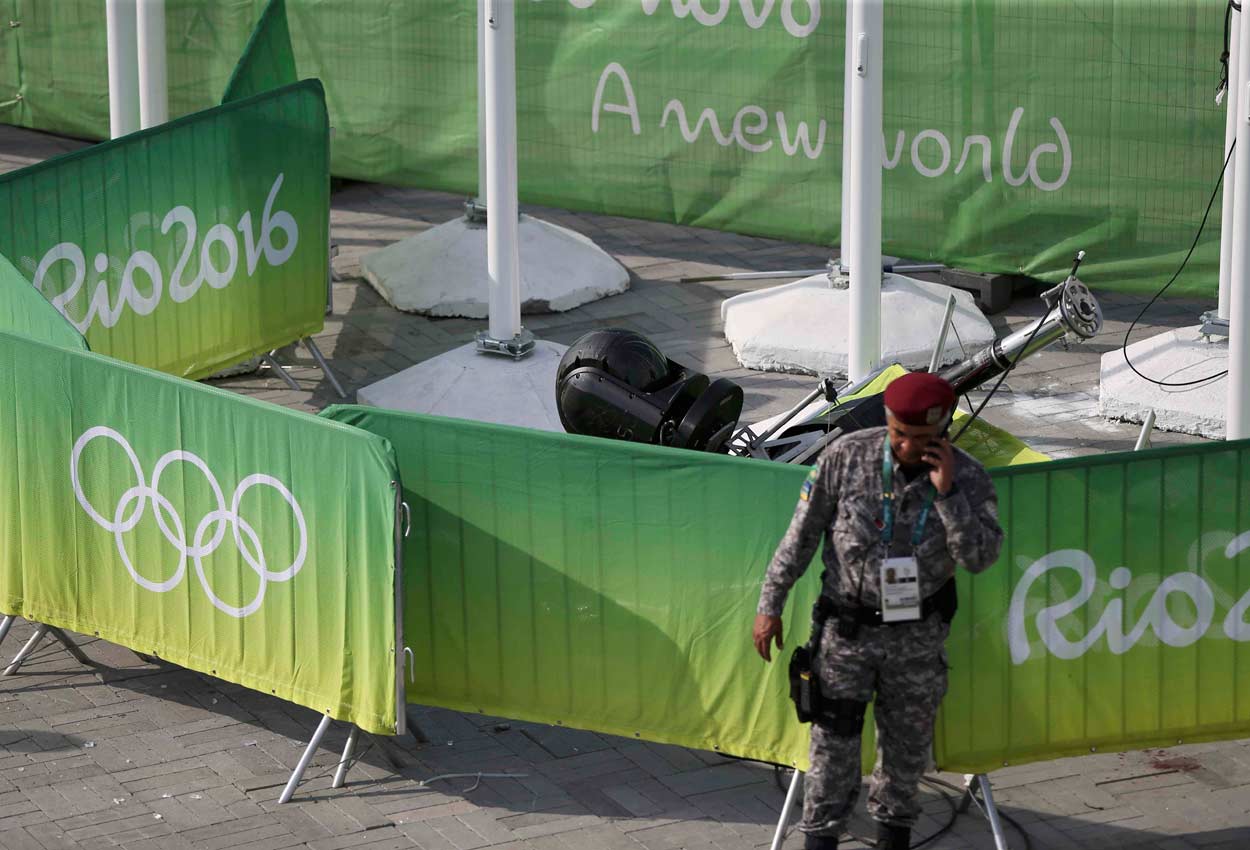 RIO DE JANEIRO - Up to seven people were injured when a giant television camera suspended by cables plummeted to the ground in the Rio Olympic Park on Monday, a spokesperson said.
The black camera, known as a 'spidercam' and used to take aerial shots of the park, came crashing down just outside the basketball stadium early in the afternoon.
An amateur video clip showed the camera, the size of a small motorbike, falling from a great height as people milled in the precinct below.
More footage showed two shocked-looking women sitting on the ground bleeding, one from the nose while the other has blood on her arm.
Another video showed a girl being taken into an ambulance on a stretcher carrying a balloon and an Olympic mascot.
"Olympic Broadcasting Services (OBS) had realised that the weight of the camera was too much so they started to isolate the area before it fell," a spokesperson for the Games told AFP.
"They thought the wire could hold for a little bit more. (But) the camera fell and hit one of the fences that was isolating the area.
"The camera and the fence hit two women. We're still working to get all the information but we think seven people were injured. They are not serious," the spokesperson added.
One fan told AFP that there were scenes of confusion after the incident.
"I heard a noise, and at first I saw the cable on the ground, and I didn't understand what happened," said Natalia, without giving a surname.
"But I sat under the bridge and I heard a lot of noise, commotion, fire engines arriving and when I came over to this side I was told that a camera had fallen and I saw some women in the emergency vehicles." A spokesperson for the OBS said the incident happened when a 'pulling rope' used to guide the camera came down.
"At that time the camera was at the height of 10 meters above the concourse, supported by the two independent guide ropes, each one of which could carry the full load of the camera," said the spokesperson.
"Immediately OBS requested a cherry picker to arrive at the area to access the camera. A few minutes later, both ropes simultaneously broke.
"This resulted in the camera falling from a height of 20 meters onto a lower concourse.