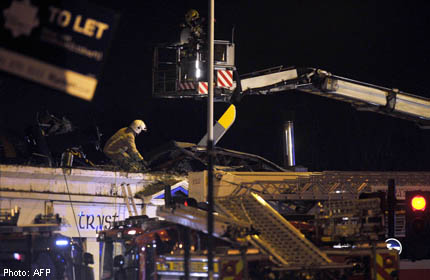 GLASGOW - One person has been killed in a helicopter crash at a crowded Glasgow pub, police said Saturday, with the death toll likely to rise.
Scottish First Minister Alex Salmond called it a "black day" for Scotland as he sent his condolences to the bereaved.
Police Scotland Chief Constable Stephen House said 32 people had been taken by ambulance to three Glasgow hospitals following the crash on Friday night.
"Sadly I can also confirm one fatality. We expect that number to increase over the coming hours," he told reporters.
Asked if there were people still alive trapped in The Clutha bar, where more than 100 people were watching a band play, House replied: "We can't say that definitively at this moment in time".
Scotland's police chief was speaking alongside Scottish First Minister Alex Salmond, outside the command centre in Glasgow which is co-ordinating the multi-agency emergency response.
"Our condolences go to those who will be bereaved; our solidarity with those who've been injured," Salmond said.
"All of us have seen over the last few hours the speed and the effectiveness of the mobilisation of emergency services in dealing with this tragedy.
"We've also heard of the instinctive courage of ordinary Glaswegians going to assist their fellow citizens in extremity.
"This is a black day for Glasgow and for Scotland. But it's also St. Andrew's Day and it's a day we can take pride and courage in how we respond to adversity and tragedy.
"And that response, from our emergency services and from ordinary citizens, has been exemplary.
"It's a day we can take great pride on how we've responded to this extraordinary tragedy."