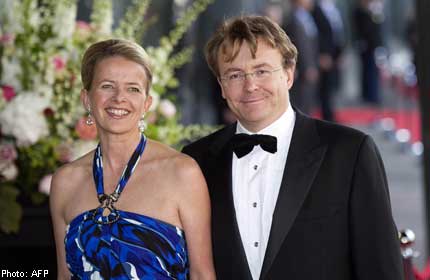 THE HAGUE - Dutch prince Johan Friso, who died on Monday 18 months after a skiing accident left him brain-damaged, was always regarded as an outsider who preferred to follow his own path rather than royal protocol.
King Willem-Alexander's younger brother, Johan Friso was left in a state of "minimal consciousness" after being buried by an avalanche while skiing near the posh Austrian resort town of Lech in February 2012.
He died aged 44.
The second son of queen Beatrix - who abdicated in favour of her eldest son Willem-Alexander in April - was known as a risk-taker with a distaste for the limelight and desire for independence.
He set himself apart from his two brothers when he went through with a controversial marriage to Mabel Wisse Smit in 2004, a move which cost him his place in the Dutch Royal House and his claim to the throne.
According to Dutch law, royals need parliament's permission to marry, with the request submitted by the premier on behalf of the Dutch cabinet.
But after it emerged that Johan Friso's future wife withheld details over her previous relationship with a Dutch drug baron, then prime minister Jan Peter Balkenende declined to ask parliamentary permission.
The prince nonetheless married Smit, who then became Princess Mabel, on April 24, 2004 in the city of Delft's historic Oude Kerk, a church where some of the Netherlands' greatest heroes and scientists are buried.
Johan Friso lost his claim to become Dutch king, a position for which he was fourth in line only after the three young daughters of his brother, then-crown prince Willem-Alexander and his wife, Princess Maxima.
Allowed to keep his title as Prince of Orange-Nassau, Johan Friso nonetheless took the decision in good humour, having always referred to himself as a "reserve pretender to the throne."
"He always went his own way," Dutch royal watcher Reinildis van Ditzhuyzen told AFP. "He never was that interested in the kingship anyway," she said.
"It was not a train smash for Prince Friso," added historian Han van der Horst. He added: "to be the head of state was never something that appealed to Friso's intellect."
Johan Friso Bernhard Christiaan David was born on September 25, 1968 in the central university city of Utrecht, and was Beatrix's middle son.
A gifted scholar, he excelled academically and studied mechanical engineering at the University of California-Berkeley before receiving degree in aeronautical engineering at the prestigious Delft Technical University.
He also held a doctor's degree in business economics from the Erasmus University in Rotterdam.
Johan Friso lived in London with Princess Mabel and their two daughters, Luana, 8, and Zaria, 7, where he pursued a professional career.
He was chief financial director of Britain's URENCO group - dealing with nuclear fuel supply - since 2011, and previously worked with the investment bank Goldman Sachs.
Since an early age, the prince enjoyed skiing in the exclusive Austrian resort town of Lech, where the Dutch royal family have taken their winter vacations since the late 1950s.
The Christian daily Trouw described Friso as "the Queen's favourite son, liked fast cars, golf, travel and diving. The type of man willing to take risks outside clearly marked pistes."
Friso ventured off-piste with a friend while the avalanche risk warning was at four on a scale of one to five.
His friend was unhurt, but Friso spent around 20 minutes under the snow before rescuers pulled him out.
His quest for independence may have had something to do with his accident, said historian Van der Horst.
"You know, it does have something to do with that," he said. "That is perhaps the reason why the prince was skiing on a slope where he perhaps should not have been."
It was not immediately known whether Friso would be buried in the Nieuwe Kerk in Delft, where most members of the royal House of Orange are laid to rest.