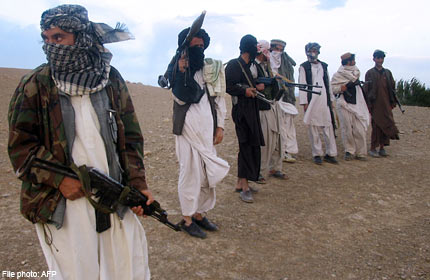 PESHAWAR, Pakistan - The Pakistani Taliban on Sunday announced preconditions for talks on ending an insurgency that has killed thousands, as seven more soldiers or police including a general died in insurgent attacks.
Shahidullah Shahid, spokesman for the Tehreek-e-Taliban Pakistan (TTP), had earlier welcomed the new government's move to begin peace talks, but said Sunday it must show its sincerity.
"First of all, troops in the entire tribal area should go back to barracks and then our prisoners should be released," Shahid told AFP.
"The Pakistan government must take steps which can develop an atmosphere of trust and can remove the doubts and suspicion. We cannot move forward unless the governments accepts these two demands."
He was speaking after the Taliban's shura or decision-making council held three days of talks about the government offer of dialogue.
Shura members from across the country took part in the meeting and stressed the need for confidence-building measures, the spokesman said.
Shahid did not give a figure for the number of jailed insurgents and did not totally rule out peace talks if the preconditions are not met.
But he added: "The government began a war against us and the government has to announce the ceasefire if it is really sincere in peace talks."
Politicians last week gave their backing to Prime Minister Nawaz Sharif's calls to begin talks with the Taliban.
Representatives from the main coalition and opposition parties, who attended an All Parties Conference, asked the government to initiate the dialogue.
Army and intelligence chiefs also attended the conference, as did representatives of secular parties that made up the previous government and had supported military operations against the rebels.
Previous peace deals with the Taliban have quickly broken down and been sharply criticised for allowing the extremists time to regroup before fresh attacks.
On Sunday seven security personnel including two senior military officers died in four separate attacks.
The officers were visiting troop posts in the Upper Dir district of the northwestern province of Khyber Pakhtunkhwa, along the Afghan border, when their vehicle hit a roadside bomb.
"Maj Gen Sanaullah and Lt Col Touseef embraced Shahadat (martyrdom) this morning. They were returning after visiting troops posts on Pak-Afghan Border," the military said in a statement.
It said the bomb also killed a soldier.
Shahid claimed responsibility for the bomb.
"No ceasefire has taken place. How we can stop our attacks when government forces are conducting operations against us?" he said.
Two other roadside bomb attacks in Miranshah, the main town in North Waziristan tribal district bordering Afghanistan, killed two soldiers on Sunday and wounded four others, security officials said.
In the neighbouring district of Bannu, Taliban militants ambushed a convoy of tribal police early Sunday, killing two and wounding four others, security officials said.
Sanaullah was the general officer commanding in the Swat valley. The provincial government has announced that a troop withdrawal will start in the valley next month.
The army in 2009 sent 30,000 troops to battle Taliban fighters controlled by cleric Maulana Fazlullah, who since 2007 had taken control of the scenic Swat valley and waged a campaign of beheadings, other violence and attacks on girls' schools.
By July 2009 the army declared the region back under control and said the rebels had all been killed, captured or fled. But more than 20,000 soldiers remained in Swat and adjacent districts in Khyber Pakhtunkhwa province.
Some security officials in Swat have voiced fears that Fazlullah and his loyalists, who escaped into eastern Afghanistan, could make a comeback in the event of a complete army pullout.
The chief minister of Khyber Pakhtunkhwa, Pervez Khattak, late Saturday approved the phased withdrawal, his spokesman Shiraz Paracha said.
In the initial stage, troops will be withdrawn from neighbouring Buner and Shangla districts in October.
A military official, speaking on condition of anonymity, confirmed the withdrawal next month of 300 soldiers from Buner and Shangla, but denied there would be a complete troop withdrawal from the Swat valley in coming months.
But the provincial government spokesman said Khattak "has signed relevant documents" and a "detailed plan of complete withdrawal will be finalised with law-enforcing agencies".
Pakistan says more than 40,000 people have been killed in bomb and suicide attacks staged by Taliban and Al-Qaeda-led militants who oppose Islamabad's US alliance.