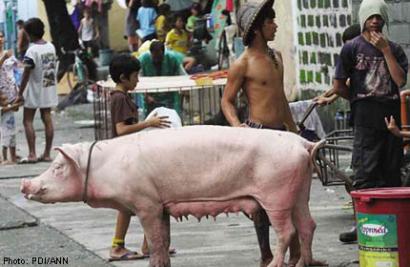 The P10-billion pork barrel scam is one of the "land mines" left by the Arroyo administration, Malacañang said Saturday.
"It's one of the challenges that the administration faces and this is not a challenge that had been unknown to the President," deputy presidential spokesperson Abigail Valte said in a radio interview.
"Remember, in the beginning, the President was always saying, 'What did they leave? Let's uncover the land mines.' And in the process of doing that, in the process of appointing competent, trusted and honest people to government offices that serve as part of the checks and balances in government, we see all these (irregularities)," Valte said. "And certainly, it's a challenge that we face and that we accept," she said.
Valte said all the criticisms being thrown at the administration concerning the pork barrel scam would be dealt with when the National Bureau of Investigation brought plunder and malversation charges against the legislators and their conduits, whether civilian or congressional staff.
Valte made this clear when told that senators linked to the scam have branded the NBI investigation as a trial by publicity.
"And we have assurances of Ombudsman Conchita Carpio Morales that they (the interagency investigative committee) will really look into those mentioned in the (Commission on Audit) report from 2007 to 2009," Valte said, referring to the special audit of the releases of legislators' allocations from the Priority Development Assistance Fund (PDAF) from 2007 to 2009. Making all accountable
Valte belied criticism that the irregularity uncovered by the Inquirer involving the PDAF has undermined the gains of the Aquino administration in the campaign against corruption. "The [goal] of all of these is to make accountable those who sinned against the people.
It's very simple. And to get to that, we have to be [sure] that the cases that will be filed are based on solid evidence and [the investigation] will not favor anyone," Valte said.
"We're only going after accountability (on the part of lawmakers)," she said.
Valte said she expected foreign investors to welcome the anticorruption crusade of the administration.
Slow progress
Valte could not say, however, how long the investigation would run. "Whether or not this (investigation) will drag is a question that the executive cannot answer … because it's not only the executive that's involved here … [T]he judiciary is likewise [involved]," she said.
The administration expects challenges even after the trial starts, principally the slow pace of the case in court, Valte said. But President Aquino wants the cases to be filed and the guilty people to be convicted before his term ends, she said.
"[T]he power to acquit or convict is not in the hands of the executive," she added.