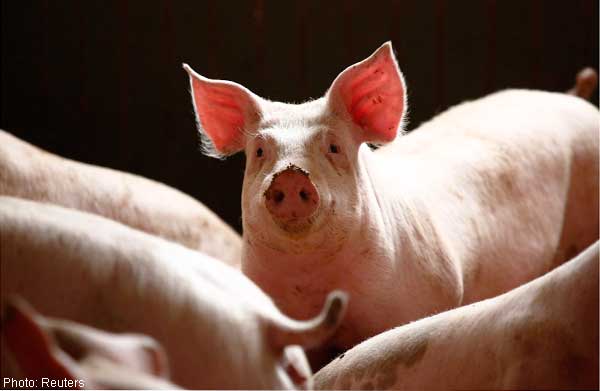 CHICAGO - A lethal pig virus sweeping across farms in the United States could cut pork production as much as 7 per cent this year, a far steeper decline than the government has forecast, according to agribusiness research firm Rabobank.
Porcine Epidemic Diarrhea virus (PEDv) has killed about 7 million baby pigs since it was detected a year ago in the United States, where the outbreak has been most severe. It has also appeared in Canada and parts of Asia.
The Rabobank research note estimated there would be a 6 per cent to 7 per cent drop in 2014 US pork production tied to losses from the virus. The USDA had said PEDv could reduce output by 2 per cent.
The United States is the world's largest pork exporter with 4.992 billion lbs shipped in 2013, down from a record 5.381 billion lbs the previous year, according to the US Department of Agriculture.
On Tuesday, the European Union addressed worries that this virulent strain could make its way to Europe next, announcing new rules aimed at ensuring imported pig blood used in animal feed was free of the virus.
The USDA has only recently required producers to report the disease, making it hard to tally the official impact on the industry.
Tyson Foods Inc, the country's top meat packer, expects a decline of as much as 4 per cent in US pork production for the year, partially offset by heavier hog weights, it said on Monday.
On Monday, Tyson reported second-quarter pork sales rose about 13 per cent to US$1.49 billion (S$1.86 billion), ignited by higher prices. "PEDv has been the driving force pushing up pork prices, especially in the US, to record highs," said Rabobank analyst Albert Vernooij in the note. "US futures climbed 30 per cent in Q1 and are up 45 per cent over last year, impacting pork users and consumer's ability to source enough pork for their needs," he said.
Rabobank thinks hog losses pegged to PEDv in the United States, Mexico, Japan and South Korea could lead to a shortage in global pork production in 2014, rather than a 1.3 per cent increase it had previously estimated.
But the current stress on global pork supplies is being eased by a supply glut in China, the world's largest producer and consumer of pork, Rabobank said.