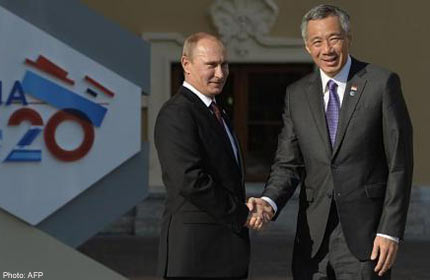 RUSSIA - Turmoil in the financial markets might be an immediate concern, but the need to generate growth and jobs remains the longer-term challenge, said Prime Minister Lee Hsien Loong.
Speaking at a G-20 leaders' discussion on Thurday, he noted that the immediate priority for leaders was to manage the economic impact arising from fears of a sudden winding down of the United States' massive financial stimulus measures.
But, he urged his counterparts to keep their eyes on the longer-term prize.
"Our bigger challenge goes beyond current concerns over monetary policy, to generating growth and jobs for the long term," he told leaders gathered at Konstantinovsky Palace, near St Petersburg, for a two-day summit.
"This requires countries to adapt to profound and powerful forces which are transforming our economies and societies."
How the world responds to these forces will determine if it faces "a future of repeated instability or prosperity", he added.
Mr Lee noted that countries would have to undertake difficult budget reforms, invest in educating their young, and work out global rules for taxation.
Speaking at the first working session, held soon after the leaders' arrival, he outlined two challenges countries faced: changes in technology and globalisation.
Technology was creating new jobs and industries - from digital media to 3-D manufacturing - which governments had to prepare people for through education and training. It was also reshaping social norms and politics, he said.
And globalisation was drawing nations closer, giving them more of a stake in each other's prosperity.
Both forces were a boon, but also caused inequalities and insecurities that called for "deep and continuing structural changes".
Developed nations could not avoid major fiscal and spending reforms, while changes to pensions and health care were "difficult political challenges, but critical".
"Indeed all our societies need to strike a fair balance between older citizens, who have major social needs, and the younger generation, who look forward to growth and jobs," he said.
Emerging economies had to invest in skills and technical education to give their large, young populations good jobs, and strengthen social policies and safety nets to spread the benefits of economic growth more widely, he said.
Mr Lee also flagged another impact of globalisation: policies once considered domestic now affected other countries as well.
Easing of monetary policies to boost growth had led to very low interest rates worldwide, "not always with happy consequences", he noted. Some companies were also moving their earnings to countries with lower taxes.
Calling on countries to work together on global tax rules, he said that companies' profits should be taxed in the countries where they operated, and warned against "new forms of protectionism masquerading as tax harmonisation".
Societies which were prudent with their budgets, controlled their spending and kept taxes low should not be penalised, he said.
"Our aim should not be to converge on high taxes globally to avoid competition," he argued, as this would hurt growth and jobs.
Leaders are scheduled to continue their discussions on the economy today. But many expect them to turn to the Syria question, and how to respond to its alleged use of chemical weapons.
A showdown loomed between the US and Russia on the issue.
While US President Barack Obama would meet his counterparts from China, France and Japan on the summit sidelines to press for punitive action, there were no plans for him to meet his host Vladimir Putin, who has rejected calls for a military strike on Syria.
warren@sph.com.sg

Get a copy of The Straits Times or go to straitstimes.com for more stories.