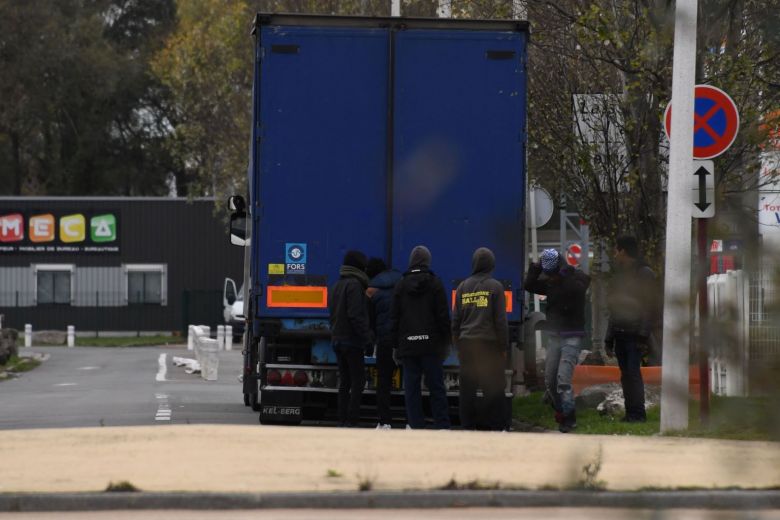 CALAIS, France - French police opened fire on Saturday (Nov 25) on a car carrying migrants near the port of Calais as it sped toward a group of officers trying to halt it for a check, authorities said.
None of the nine migrants aboard the vehicle was wounded, but the car hit one of the officers and injured his knee.
Calais is a key jumping off point for migrants seeking to break into Britain-bound trucks or pay smugglers to help them get across the Channel.
"The vehicle hit an officer, whose knee was slightly injured. The officers opened fire", stopping the vehicle, a local official told AFP.
The six Iraqis and three Afghans in the car were arrested.
Earlier in the day, five migrants were wounded in an exchange of gunfire between groups of Afghan migrants in Calais, which officials blamed on violence between traffickers.
That shooting does not appear to be linked to the car incident, which happened on a road leading to the port.
The local prefect's office told AFP the apparent score settling happened near a Catholic aid centre outside the centre of the northern port city.
One man was reportedly taken to hospital after being hit in the abdomen.
Police swiftly intervened and restored calm, the prefect's office said.
"An exchange of fire with the protagonists of Afghan nationality - one imagines (it is) a settling of scores between traffickers, though that still has to be confirmed," the prosecutor at nearby Boulogne said.
Authorities dismantled the sprawling "Jungle" camp in Calais - which at its height was home to some 10,000 people - in late 2016.
Though the Jungle camp has been cleared, hundreds of people are believed to remain in the Calais area.