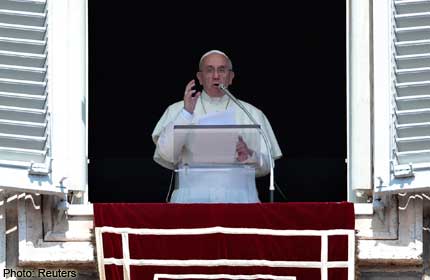 VATICAN CITY - Pope Francis asked for a big turnout at a Vatican vigil on Saturday for peace in Syria and thanked the world's faithful and non-believers for their support.
"May the cry for peace ring out loud around the world," the pope told tens of thousands of faithful in St Peter's Square at his weekly audience on Wednesday.
"Peace begins in our hearts," he said.
Speaking to groups of Arab-speaking faithful from Egypt, Jordan and Iraq, the pope said: "Particularly for you, I say that the tribulations, the violence, the evil will never win against Jesus".
The Vatican and Christian minorities in the Middle East have protested against the prospect of US-led military strikes against President Bashar al-Assad's regime, warning about the rise in radical Islamism and pointing to the Christian exodus from Iraq.
The 76-year-old on Sunday called for a day of fasting and prayer for peace, saying: "War leads to more war".
He also condemned the alleged use of chemical weapons saying that "God and history" would judge perpetrators.