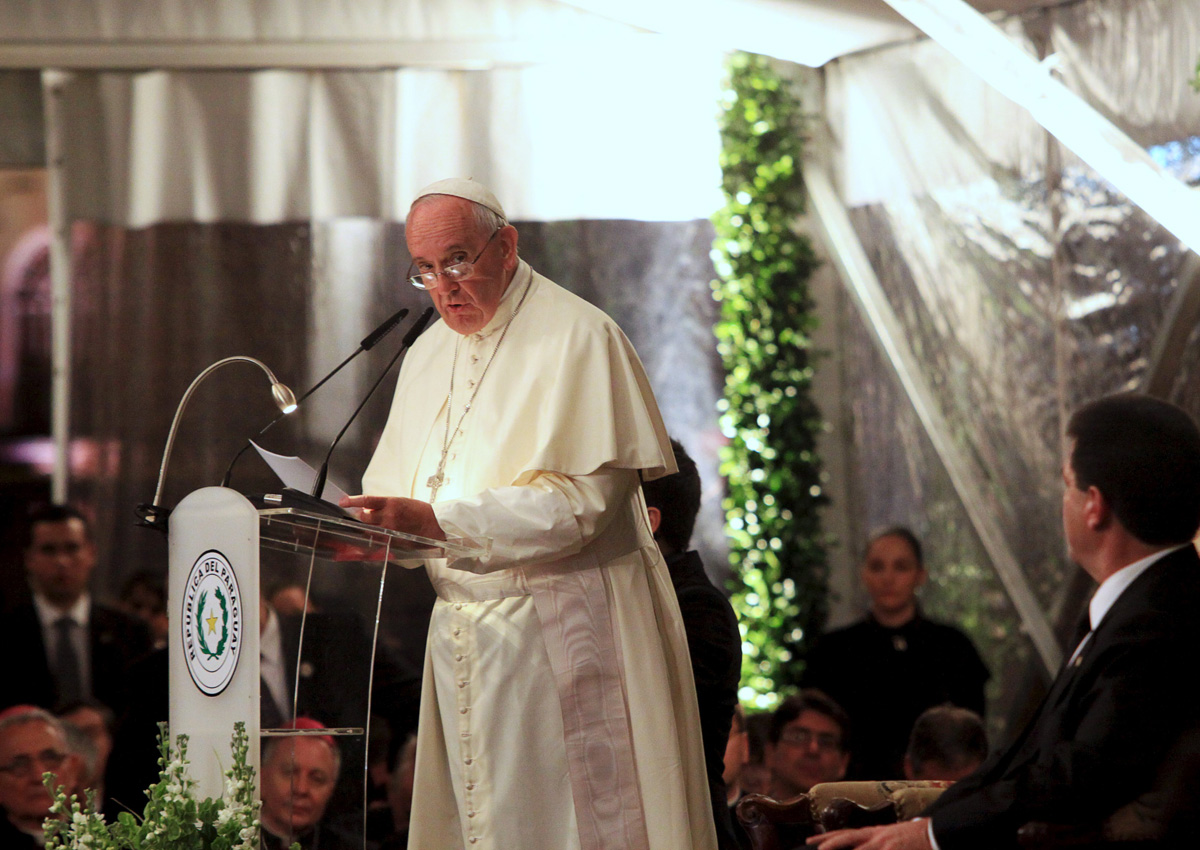 ASUNCION, Paraguay - Pope Francis brought his message of equality to Paraguay Friday, on the third and final stop of a South America tour that has burnished his reputation as a powerful voice for the downtrodden.
The pope was greeted by tens of thousands of people as he made his way from the airport to downtown Asuncion, where he praised Paraguay's "solid and stable" democracy, but called on leaders to address inequality.
"An economic development which fails to take into account the weakest and underprivileged is not an authentic development," the first Jesuit pope told Paraguay, which has one of the region's highest rates of growth - and inequality.
The pope also paid tribute to the country's women, largely left widowed and orphaned during the War of the Triple Alliance from 1865 to 1870, which nearly decimated the male population.
"As mothers, wives and widows, they shouldered the heaviest burdens," Francis said.
"They found a way to move their families and their country forward, instilling in new generations the hope of a better tomorrow." His arrival marks the second visit by a pope to Asuncion after John Paul II in 1988 - just one year before dictator Alfredo Stroessner fell, making way for democracy.
"It is not hard to feel at home in so welcoming a land," the pope said.
"Paraguay is known as the heart of America, not only because of its geographic location, but also because of the warmth of its hospitality and the friendliness of her people."
The 78-year-old Argentine pope arrived in Asuncion from Santa Cruz, Bolivia. As his Airbus crossed over northern Argentina, he sent Argentine President Cristina Kirchner a message of "affection for his dear country."
Francis has not returned to his home country since his election as pope in March 2013, but could travel there on an official visit in 2016.
On Saturday, the pope will visit the Marian Shrine of Caacupe and on Sunday will travel to a poor Asuncion neighborhood, ahead of a mass expected to draw a crowd of one million.
Francis begins his trip back to the Vatican Sunday, concluding his three-nation tour that also saw him travel to Ecuador.
Paraguay is home to the main base of South America's Jesuit mission. Adding to its Catholic credentials, the country elected a bishop, Fernando Lugo, to the presidency in 2008. He served in office until 2012, when he was kicked out in a coup.
'Many sins'
Before leaving Bolivia earlier in the day, Francis ventured into a violent, overcrowded and gang-ridden Bolivian prison that houses children living with their parents.
He hugged and kissed inmates and urged them not to yield to the "devil." One disconsolate female inmate broke down in tears and threw herself into the pope's arms, saying she felt utterly abandoned.
The pontiff, who specifically requested the visit to the Palmasola jail, walked slowly through a courtyard where hundreds of prisoners and their families awaited him.
Back inside the penitentiary, Francis exchanged hugs and kisses with prisoners and held children in his arms, kissing them too.
"The man standing before you is a man who has experienced forgiveness. A man who was, and is, saved from his many sins," said Francis, the first pope from Latin America.
"That is who I am. I don't have much more to give you or to offer you, but I want to share with you what I do have and what I love. It is Jesus Christ."
The Palmasola prison, nearly 50 years old, was built to hold 600 prisoners but is now overflowing with nearly 5,000 men and women.
A gang war there in 2013 left more than 30 people dead. An estimated 30 percent of the inmates are accused of rape.
September return
Ecuador, Bolivia and Paraguay are predominantly Catholic and have been marked by a long history of poverty and inequality, especially afflicting indigenous populations.
Beginning in the 1500s, Spanish conquerors, with the blessing of the Church, subjugated and enslaved indigenous peoples in the Americas, annihilating native cultures and forcing their conversion to Christianity.
Francis will return to Latin America in September, when he travels to Cuba.