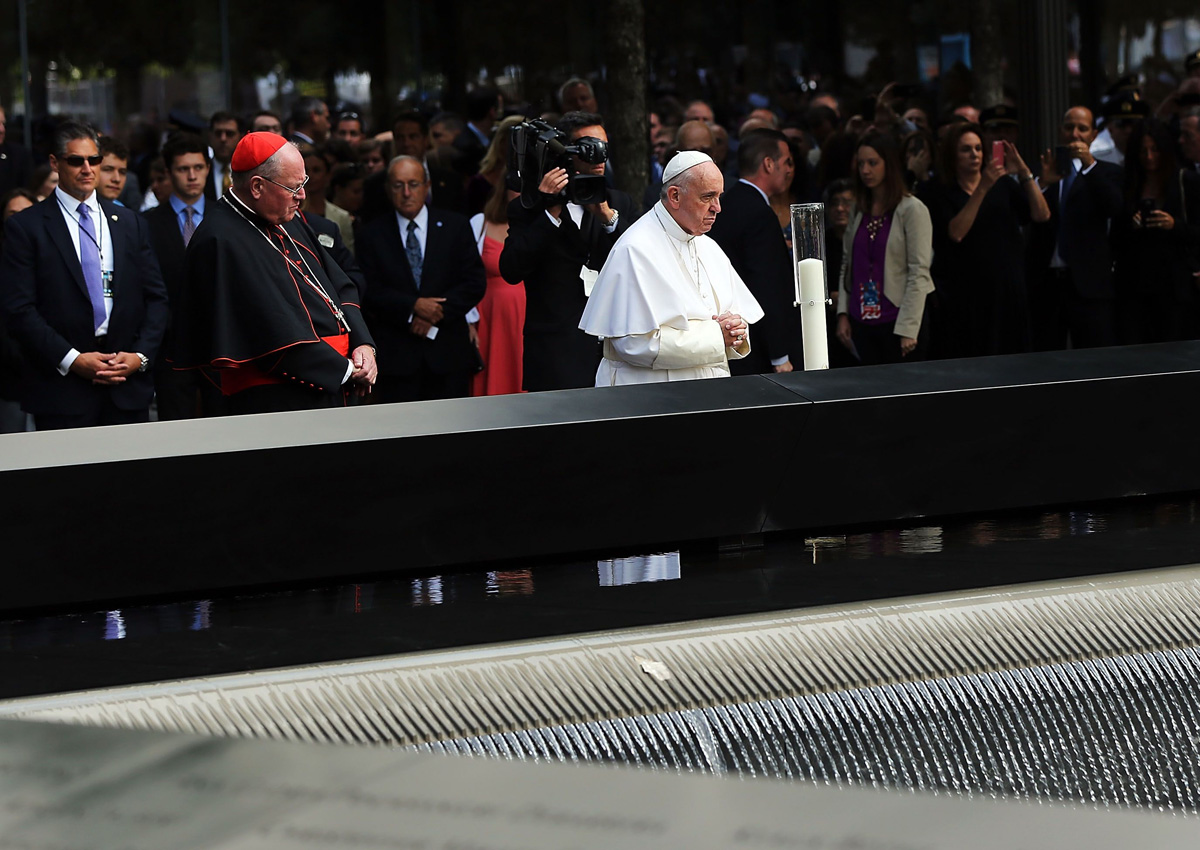 NEW YORK - Pope Francis spent an emotionally-charged day in New York on Friday from morning prayers at the 9/11 Memorial to a drive past adoring masses thronging in Central Park.
Leading a gathering of 700 at the site of Ground Zero, the pope paid tribute to the nearly 3,000 victims and those who responded to the worst attacks on US soil that killed nearly 3,000 people on September 11, 2001.
The head of the world's 1.2 billion Catholics led a multi-faith prayer for world peace and a somber moment of silence bringing together Hindu, Buddhist, Sikh, Greek Orthodox, Muslim and Jewish leaders.
"In this place of pain and remembrance I am full of hope," said the 78-year-old Argentine.
"I hope our presence here sends a powerful sign of our wish to share and reaffirm the wish to be forces of reconciliation, forces of peace, of justice," the pope said.
After an impassioned early morning speech at the United Nations, and the grave solemnity of Ground Zero, Francis was welcomed in song and laughter on a warmly emotional visit to a Catholic school in New York's East Harlem neighborhood Friday afternoon.
Beaming and relaxed, even submitting to a selfie or two, the pope - who is already a week into an exhaustingly packed American tour - seemed to come alive during the hour he spent with the children at Our Lady, Queen of Angels school.
Flag-waving youths chanted "Holy Father, we love you!" as the pope lingered for long minutes smiling and grasping hands, before heading inside the school to a welcome from a choir of its largely black and Latino students.
Holding hands and tenderly patting heads, the Argentine pontiff toured the classroom chatting in Spanish, before meeting with a group of migrant workers and their families who presented him with gifts including a book pulling together their diverse life stories, and a set of tools on behalf of the Big Apple's army of day laborers.
'Keep dreaming'
As in his historic speech to the US Congress the day before, when he addressed the school gathering, Francis cited the legacy of Martin Luther King.
"One day he said, 'I have a dream'," said Francis.
"His dream was that many children like you could have access to education.
"Don't forget about that. Today we want to keep dreaming," said the pope, whose reform-minded approach and humility has earned him a rapturous welcome in America.
When after his speech, Francis asked the congregation to perform for him once more, the women present rose to the occasion, offering a moving song in a native African tongue and another in Spanish.
From Harlem, Francis set off in direction of Central Park, already teeming with tens of thousands of people hoping to catch a glimpse of him on his way to evening mass in Madison Square Garden.
'Selfish thirst for power'
Earlier in the day, the pope went to the UN General Assembly to offer his vision of a better world.
In a wide-ranging speech, Francis touched on an array of hot-button topics, including the persecution of Christians, the Iran nuclear deal, drug trafficking - "silently killing millions" - and the rights of girls to an education.
The first Latin American pope - who has seen his own country suffer economic crises - called on the UN Security Council and financial lenders to "limit every kind of abuse and usury." He also gave his latest passionate plea to protect the environment, as he voiced confidence that a looming UN summit on climate change would reach "effective" agreement in Paris.
The pope offered a strong endorsement of Iran's agreement with the United States and five other world powers to limit its nuclear program, a day after Francis spoke to the US Congress, where many lawmakers vehemently oppose the deal.
'Man and woman'
Francis reserved some of his strongest words for drug trafficking, a scourge in Latin America in particular.
"Drug trafficking is by its very nature accompanied by trafficking in persons, money laundering, the arms trade, child exploitation and other forms of corruption," he said.
Francis, who was selected as pope in 2013, has an avid following even among non-Catholics for his embrace of causes such as climate change and his reform-minded approach to social issues.
In what has perhaps become his most famous remark, Francis said early in his papacy of gay priests, "Who am I to judge?" But at the United Nations, he signaled that the Church was not ready to champion transgender rights, an issue of growing importance in the United States as gay equality becomes mainstream.
"We recognize a moral law written into human nature itself, one which includes the natural difference between man and woman and absolute respect for life in all its stages and dimensions." Francis has enjoyed a remarkably warm response in the United States, with President Barack Obama welcoming him personally on Wednesday and championing the pontiff's leadership.
On Saturday he heads to Philadelphia, where he will greet huge crowds at the Festival of Families, a Catholic gathering that takes place every three years.