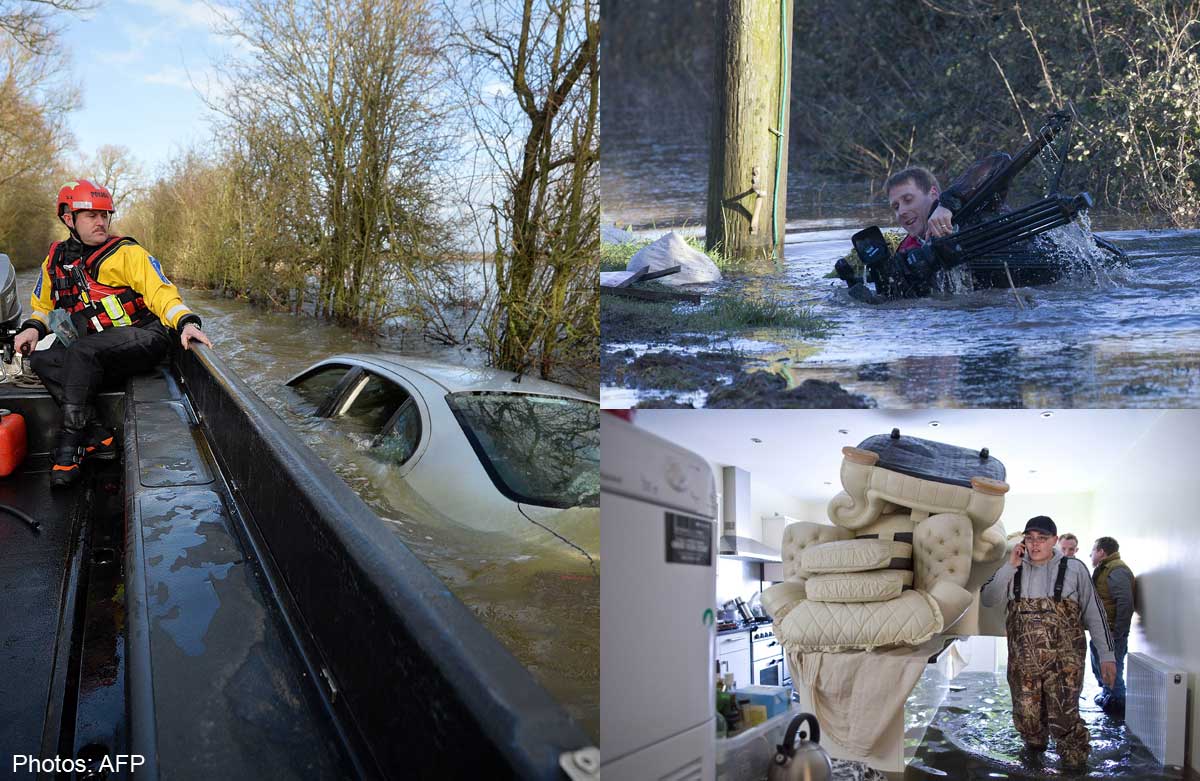 WHAT: MASSIVE STORM, FLOODING IN BRITAIN
WHEN: WEDNESDAY
Hurricane-force winds from an Atlantic storm left tens of thousands of Britons without power yesterday and a man dead.
It added to the widespread misery of devastating floods caused by the wettest winter in 250 years.
Around 80,000 households remain without electricity, with Wales the worst affected.
The man died after being electrocuted while attempting to move a fallen tree that had brought down power lines in Wiltshire, in south-west England.
Gusts approaching 160kmh tore at parts of England and Wales. The River Thames was predicted to rise to its highest level in more than 60 years in places, threatening towns and villages to the west of London, AFP reported.
Motorways were flooded, road bridges closed and rail lines offered limited - if any - services, stranding travellers and bringing the country to a standstill.
Major General Patrick Sanders, who is co-ordinating the armed forces response that has seen hundreds of troops on the streets, called the conditions an "almost unparalleled natural crisis".
The conditions brought chaos for commuters, stranding a train carrying hundreds of passengers for hours after overhead lines came down in Yorkshire, northern England.
Passenger Carol Machin told BBC radio: "We haven't moved. It's a complete accident, there's nothing you can do. There's electrical line everywhere."
Another passenger Rachel Sigsworth tweeted: "Stuck on a wobbling train in the middle of a storm! Freezing! starving! Wet feet! Send help!"
The winds were so severe on Wednesday night that Virgin trains urged passengers to "abandon travel". Travellers already on trains were let off at the nearest station.
The Met Office national weather service issued a red warning - the highest threat level - for "exceptionally strong winds" in western parts of Wales and north-west England.
CRUMPLED
In Hampshire, firefighters rescued a two-year-old girl from a crumpled car after a tree fell on it during high winds. The toddler escaped unharmed.
Fourteen severe flood warnings were in place in Berkshire and Surrey, while two remain in Somerset.
The flooding was so bad that a general practitioner was forced to see his patients in a pub after floodwaters cut off his surgery, Mail Online reported.
Dr John Pittard set up a makeshift office at the Swan on the banks of the River Thames in Staines, Surrey.
He said: "It's all a little bit surreal. I think both the patients and I will look back in the future and think, 'Did we really do that?'"
Forecasters said 70mm of rain would fall by today in south-west England.
Emergency efforts were picking up, and the military had 1,600 soldiers deployed with 2,000 more on standby.
British Prime Minister David Cameron chaired the government's emergency committee and told Parliament he stood by his pledge that "money is no object in this relief effort".
Capital Economic's expert Richard Holt told The Independent that the storms could knock as much as £13.8 billion (S$29 billion) off the value of the UK economy.

Get The New Paper for more stories.